PSNI release images of Ardoyne riot suspects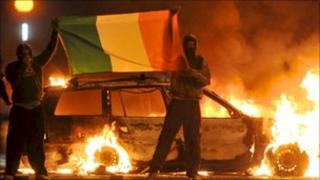 The police have released images of 14 people they want to speak to in connection with rioting in north Belfast earlier this month.
Officers came under sustained attack from people throwing bricks and wielding metal bars and planks on the evening of 12 July.
The trouble in Ardoyne continued for another two evenings.
The police photographed and filmed some of those involved in the violence with the intention of arresting them later.
Several young men have already appeared in court on charges relating to the rioting.
A dedicated team of 20 officers has been set up to investigate the trouble.
Footage
Detective Chief Inspector Alan Little, who is leading the team, said he hoped people could help them identify the suspects.
"It is in everybody's interest - as well as in the interest of justice - that those responsible are charged and brought before the courts," he said.
"My detectives have been sifting through hundreds of hours of CCTV and other media coverage, several thousand still photographs and a substantial amount of web footage.
"In addition, we have gathered forensic evidence and conducted area searches."
Detectives across Belfast have so far made 42 arrests in connection with the disturbances, 22 of which relate to disorder in the north and west of the city.
Meanwhile, a 34-year-old man who was arrested on Thursday in connection with the trouble has been released unconditionally.
A 37-year-old woman who was being questioned about rioting on the Ormeau bridge in south Belfast on 12 July has been charged with riotous behaviour and is to appear at Belfast Magistrates Court on 26 August.