Human remains found in Monaghan search for 'Disappeared'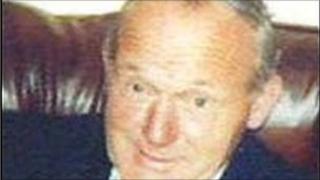 Human remains have been found in County Monaghan by a group searching for one of the Disappeared, Charles Armstrong.
The Independent Commission For The Location Of Victims' Remains said recovery was ongoing and the formal identification process would take some time.
Mr Armstrong, a 57-year-old, father-of-five, from Crossmaglen in south Armagh, went missing on his way to Mass in 1981.
His car was later found in Dundalk.
Irish police have preserved the area where the human remains were found as a crime scene. The remains will be taken to Dublin on Friday for a post mortem examination.
Mr Armstrong's family believe he was abducted and murdered by the IRA.
He is one of the so-called "Disappeared" - the 14 men and women abducted and killed by republican paramilitaries at the height of the violence in Northern Ireland.
The IRA admitted in 1999 that it killed and buried nine of the disappeared - Seamus Wright, Kevin McKee, Jean McConville, Columba McVeigh, Brendan Megraw, John McClory, Brian McKinney, Eamon Molloy and Danny McElhone - in secret locations.
The bodies of Mr Molloy, Mr McKinney, Mr McClory, Ms McConville and Mr McElhone have been found.
Others who vanished during the Troubles include Gerry Evans, Robert Nairac and Seamus Ruddy, who disappeared in France and whose murder was admitted by the INLA.
Search
Mr Armstrong's family believe he was killed when he resisted an attempt to hijack his car.
For several months in 2008, a team of experts concentrated on an area of bog and gorse at Inniskeen, in a search just a couple of miles from the Armstrong family home.
The commission was prompted to act that year by an anonymous map, sent to the family, which claimed he had been buried there.
It was the second map the family had received. The first showed a slightly different location.
Sinn Fein President Gerry Adams said on Thursday that his thoughts were with the Armstrong family as they awaited the outcome of the identification process.
He also appealed to anyone with information that could help the families of the Disappeared to come forward.
SDLP Newry and Armagh MLA Dominic Bradley said the families of the Disappeared "had shown great patience and forgiveness, in stark contrast to the way in which their loved ones were taken from them and murdered".