Maze site set to be redeveloped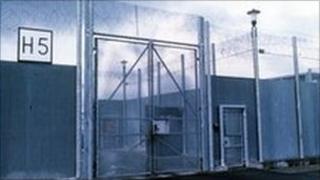 An agreement on the future of the Maze Prison site has been reached by the NI first and deputy first ministers, Peter Robinson and Martin McGuinness.
The long-awaited proposals include the construction of an EU-funded Peace Building and Conflict Resolution facility.
It is also thought the Royal Ulster Agricultural Society will move to the site.
The former prison was closed in 2000.
According to BBC NI political corespondent Gareth Gordon, a board will be appointed to oversee the facility.
It will comprise of ex military personnel, former prison officers, and police officers along with victims, politicians and former republican and loyalist prisoners.
The facility will be housed in the former prison hospital where the IRA hunger strikers died and in one H block, H6.
If approved by the Assembly, a development corporation for the site could be operational within six months.
The corporation will oversee the opening and redevelopment of the site including the construction of the Peace Building and Conflict Resolution facility.
Mr McGuinness said on Thursday: "The Office of the First Minister and Deputy First Minister will shortly submit an EU funding application for a Peace Building and Conflict Resolution Facility on the site.
"It is anticipated that the centre will be a world-class facility of international importance designed to strengthen our peace-building expertise and to share our experiences with others throughout the world."
Potential
Mr Robinson said: "The constitution of a development corporation for this strategically important Maze/Long Kesh site will enable us to realise the full economic potential of the site.
"The site represents a unique opportunity to help revive our economic output in these difficult times."
The RUAS has already made clear its desire to move the Balmoral Show from its current site at the King's Hall in Belfast.
RUAS chief executive Colin McDonald said he hoped plans to develop the Maze site could now be "speeded up".
The DUP's Jeffrey Donaldson said that the Maze site was "a massive resource" for Northern Ireland that should be exploited to its full potential.
Ulster Unionist leader Sir Reg Empey welcomed the announcement of the creation of a Maze Development Corporation.
But Sir Reg questioned involving the corporation with the proposed conflict resolution facility.
Alliance Lagan Valley MLA Trevor Lunn also welcomed the announcement, but said there was "much work to be done" before Northern Ireland would see the benefits from the development.
TUV leader Jim Allister described the plans for a conflict resolution facility as a "DUP climbdown" and that it had "rolled over to Sinn Fein demands that central to Maze development is development of the shrine project".
However, the DUP has denied this and said any facility on the site would be to help build a shared future and would not be a symbol of a divided past.