Man 'travelled 30 miles to take part in Ardoyne riot'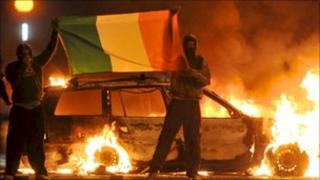 A man travelled more than 30 miles from his home to take part in a riot in north Belfast, a court has been told.
Paul Donegan, 26, from Dunclug Park in Ballymena is accused of riotous behaviour in Ardoyne on 12 July.
Bail was refused after a police officer told Belfast Magistrates Court that Mr Donegan specifically came to the area "to take part in disturbances."
Mr Donegan's solicitor said his client had been in the area "to collect a childcare item from a cousin."
The police officer also told the court that Mr Donegan admitted throwing stones and claimed there was also evidence that he was involved in kicking out at police lines.
The court heard how the accused was allegedly seen wearing an Army mesh veil over his face.
'Tipping point'
Remanding him in custody, District Judge Fiona Bagnall said: "I do have a grave concern at this stage that he did indeed travel in order to become involved in this matter.
"That is the tipping point for me as far as likely re-offending is concerned."
Meanwhile, a 16-year-old boy accused of vehicle hijacking and attacking police during the same riot cannot be controlled, the court was told.
The suspect, who cannot be named because of his age, was in the middle of rolling a cannabis joint when officers went to arrest him two weeks later, the police said.
The teenager faces numerous charges including:
Attempting to cause grievous bodily harm to police officers,
Possession of offensive weapons - namely a 5ft pole and bottles,
Attempting to damage a police Landrover wing mirror and window,
Seizing control of a Toyota car by force and destroying the vehicle
A detective sergeant who said he could connect him with the offences told the court: "This individual I would say, having examined CCTV footage, would be one of the most prominent individuals within that riot.
"From the very start right through until the early hours of the morning his activities were wide-ranging from attacking police officers with poles, pipes and other materials to the hijacking of the vehicle which was set alight."
Opposing his release, the officer claimed the youth could not be controlled, with even his own mother said to be in a degree of fear of him.
A defence solicitor claimed there were serious problems with the strength of the police evidence against his client.
He argued that the teenager had been identified wearing a hooded top and pointed out that the vast majority of the crowd at Ardoyne were similarly dressed.
But District Judge Fiona Bagnall ruled there was too great a risk to release the boy on bail.
Both accused will appear again before the court next month.