Alex Higgins' funeral taking place in Belfast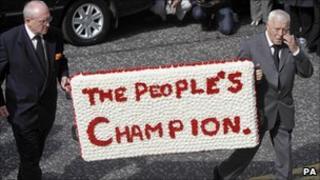 The funeral of former world snooker champion Alex Higgins is taking place at St Anne's Cathedral in Belfast.
Earlier, a private service was held at his sister's home in south Belfast before the coffin was taken through the city streets in a horse-drawn carriage.
Thousands of people gathered along the route of the cortege on its way to the cathedral.
The 61-year-old died last month after a long battle with throat cancer.
Several hundred onlookers applauded and cheered as Higgins' coffin was taken along the Donegall Road and Sandy Row - the area where he grew up.
There was a short pause at his birthplace at Abbington Street.
The procession then continued on to Hope Street, Great Victoria Street, Fisherwick Place, Wellington Place, Donegall Place, Royal Avenue and then to the cathedral at Lower Donegall Street.
Past and present stars of the game, including Stephen Hendry, Ken Doherty and Joe Swail are attending the service.
A large floral wreath bearing the words, 'The People's Champion' was held up as his funeral cortege arrived at St Anne's Cathedral.
A large crowd who had gathered outside cheered as his coffin was carried inside.
The funeral service is being led by Houston McKelvey, the Dean of Belfast.
John Virgo, who played Higgins many times, said it was a sad day.
"The man made the game what it is today, I don't think there's any doubt about that.
"He introduced a new type of game, that made it exciting, watchable, and I think all the players playing today should be thankful to Alex Higgins, for what he did for the game.
"It's sad because it's an end of another era, you know, we're all getting older and it's just a shame that he went like he did, but he's left a great legacy for the game."
Mr Higgins will be buried at Carnmoney Cemetery on the outskirts of north Belfast.
He won the snooker World Championship twice, in 1972 and 1982.
A controversial figure, Higgins was banned from five tournaments and fined £12,000 in 1986 when he headbutted UK Championship tournament director Paul Hatherell.
In 1990 Higgins was banned for the rest of the season after he punched a tournament director at the World Championship.
Despite his numerous fights and rows with referees, he continued to play the game regularly and appeared at the Irish Professional Championship in 2005 and 2006.