Terrorism arrests rising in NI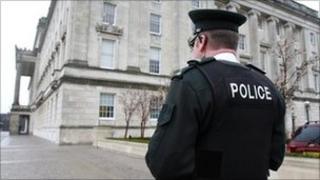 The number of people arrested and charged with terrorism offences has gone up this year according to figures supplied by the Home Office.
This year 122 people have been arrested and 31 people have been charged with offences. In 2008-2009 there were 106 arrests with 17 charges.
The figures were in a written answer from Home Secretary Theresa May to the North Antrim DUP MP Ian Paisley.
Mr Paisley said the figures illustrated the threat from dissident republicans.
"The figures show that this year more people are actually charged rather than just arrested, which indicates the police's ability to get strong evidence has increased, which should be welcomed."
Mr Paisley said the Home Secretary outlined measures which could allow controversial stop and search powers to continue in Northern Ireland.
Section 44 of the Terrorism Act, which allows police to act without reasonable suspicion in a specified area, was last week ruled illegal by the European Court of Human Rights.
The rise in Section 44 searches has followed an increase in dissident republican attacks.
"If you take 2007/8 about 3,000 were stopped and searched by police using anti-terrorism powers and in 2008/9 it rose to 10,000, and one can only conclude the stop and search powers have been successful.
"It is important we don't allow the human rights agenda, as important as that is, to affect the safety of ordinary people here," Mr Paisley added.
"The Home Secretary has also told me there will be an entire review of counter-terrorism legislation."
Ms May has said she is working with Secretary of State Owen Paterson to ensure that the distinct features of the security situation in Northern Ireland are taken into account.