Developer Paddy McKillen brings 'starchitects' together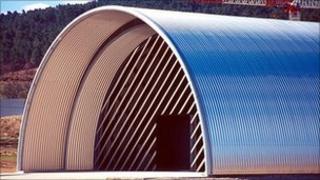 A remarkable artistic project is being created in the south of France by a Belfast-born property developer.
As work continues on Paddy McKillen's ambitious plan, he is also taking legal action against the Irish Republic's "bad bank" set up to save its crippled financial institutions. BBC News Online's John Campbell reports.
"Paddy McKillen seems to have only been drinking shandy at the property party where other tycoons got wasted," is how the Irish Times business editor described the way in which Mr McKillen emerged relatively unscathed from Ireland's crash.
On Monday Mr McKillen's barristers told the High Court in Dublin it would be unfair to move his loans into the National Asset Management Agency (NAMA) "bad bank", as it would wrongly associate him with other developers who had become hopelessly insolvent.
While those others took huge punts in the bubble years, Mr McKillen had diversified away from that overheated market.
Just how well he has performed in recent years can be seen far from Ireland, in an idyllic corner of the south of France.
Deep in Provence, Mr McKillen owns a vineyard, Chateau La Coste.
Described on its website as "a beautiful secret," it produces a range of biodynamic wines under the stewardship of winemaker Matthieu Cosse.
But it is not wine but architecture and art which will be the most remarkable features of the property.
Delicate
Mr McKillen is developing an arts centre which will include structures designed by five of the world's top architects: Tadao Ando, Jean Nouvel, Frank Gehry, Sir Norman Foster and Renzo Piano.
All of the men are winners of the Pritzker Prize - the highest award in world architecture.
Japanese architect Tadao Ando is the master planner for the project and last year spoke to the Bloomberg news agency about it.
"We're creating a space filled with water and the gallery will appear to float on top of it," he said.
A feature in a French construction magazine published earlier this year showed Ando's sharp and delicate concrete building taking shape.
The Frank Gehry structure, which is to be used as a music room, is understood to be the wildly deconstructed wood and glass pavilion he exhibited at the Serpentine Gallery in London in 2008.
A building by this year's Serpentine pavilion creator, Jean Nouvel, is already in place - a strikingly curved, metallic winery.
It is not year clear what Sir Norman Foster and Renzo Piano will be contributing to the project.
Mr McKillen's spokeswoman could not offer any more information, saying it was "a private project" and there was "no intention to open it to the public or promote it at this stage".
However, in an interview with the Guardian newspaper last year, another leading architect Amanda Levete said one of her colleagues, Bruce Davison, was creating an "exquisite" stainless steel bridge for Chateau La Coste.
It is not just architecture which will grace the grounds of the chateau - a sculpture park will also be a feature.
Los Angeles-based artist Tony Berlant has described how his latest exhibition was inspired by the vineyards and gardens of the chateau.
Last autumn, he visited the chateau to help in the siting of three large architectural sculptures that he created in the mid-1960s.
Mr Berlant's gallery told the BBC the pieces had not yet been installed and it could be next year before they were finally in place.
These pieces are expected to be complemented with works from Louise Bourgeois, Richard Serra and James Turrell.
Ironically, as work continues on the project, back in Dublin some of Mr McKillen's less successful peers face having their boomtime art collections seized by the baliffs.