Game of Thrones cast gets local additions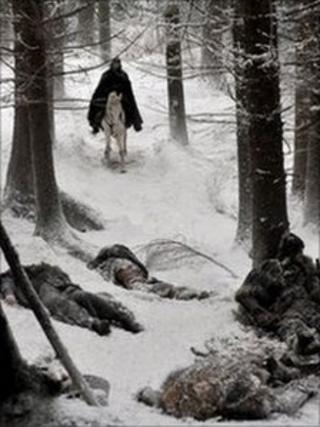 A fantasy epic being filmed in Northern Ireland is to star some of the brightest local acting talent.
Game of Thrones begins filming in Belfast next week, and Northern Ireland Screen has announced Conleth Hill, Ian McElhinney and Derek Halligan will join the cast.
They will join Coleraine actress Michelle Fairley, who was recently cast as the wife of Sean Bean's lead character in the series by US broadcaster HBO.
Much of the series will be shot on a huge set at Belfast's Paint Hall Studio in the Titanic Quarter.
Scenic locations such as the Mourne Mountains will be used to recreate the fantasy landscapes from the world created in George RR Martin's series of novels, A Song of Ice and Fire.
Conleth Hill is best-known for his stage roles and was most recently seen in the cinemas in Woody Allen's Whatever Works.
'Chameleon'
On his blog, author Martin wrote of him: "Hill, like Varys, is quite a chameleon, an actor who truly disappears inside the characters he portrays, more than capable not only of bringing the slimy, simpering eunuch to life."
Ian McElhinney is a fellow stalwart actor of Belfast's Lyric Theatre who was nominated for a Tony award in 2001 for directing Stones in his Pocket, written by his wife Marie Jones.
Derek Halligan first appeared on screen in 1982 Troubles drama Harry's Game and his credits include Divorcing Jack, Fifty Dead Men Walking and Hollyoaks.
The cast also includes Mark Addy, Alfie Allen, Aidan Gillen, Peter Dinklage, Nikolaj Coster-Waldau, Lena Headey and Jerome Flynn.
The series is set in a fantasy medieval world, which has led to some niche casting calls for extras.
Amputees were being sought last month, as were hirsute men not planning to take that job at the bank any time soon; hairy recruits to the series must keep growing their hair and their facial hair until next January.
The production team now "urgently require experienced male horseriders aged 16 to 65 with swarthy skin and dark hair and, if possible, long dark hair".
The chance of appearing in the show will be even greater if they have "a mediterranean, hispanic, mixed race or latin look about them".
An open casting call takes place on Wednesday evening at Lusks Equestrian Centre in Carryduff.
The government estimates the series will generate £20m for the local economy.
Filming for the nine-part series is expected to last until the end of the year, with the show going to air next spring.