Red kites flying high in NI skies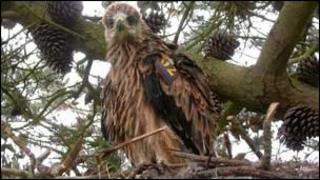 After an absence of 200 years, red kites have successfully bred in the forests of Northern Ireland.
This brings to 80 the total number of birds released by the Royal Society for the Protection of Birds (RSPB) in Northern Ireland.
Altogether five chicks have fledged from four nests across south Down.
Once widespread across Europe, red kites have suffered from persecution, including shooting and poisoning.
News of the breeding success news was announced by the RSPB at the third and final release of the majestic birds in County Down, part of the reintroduction programme.
The RSPB praised the co-operation of farmers and landowners in achieving the conservation milestone.
The birds are now regularly seen across County Down and further afield.
Red kites have been seen as far away as Sligo and County Wicklow.
RSPB director Dr James Robinson said the "homegrown" chicks represented a significant landmark in the reintroduction of the species.
"Their successful hatching and fledging is the realization of a dream to bring back these birds that began more than five years ago," he said.
'Fighting chance'
He said that while the start of the kites' breeding in Northern Ireland boded well for the bird, there was still a long way to go.
"These five new chicks are just the start of this journey. To ensure that our population is sustainable, there needs to be at least 50 breeding pairs," he said.
"We hope that the support which we have received will continue to give these beautiful birds a fighting chance."
Tony Cross of the Welsh Kite Trust, which supplied the birds, said the fact that the red kite was once again a breeding bird in Northern Ireland was "a great reward for all the hard work and effort that has been put into re-instating these magnificent birds to their rightful place here".
"I'm sure that all the farmers, landowners and nest-watchers in Wales, who kindly donated their chicks, will be equally delighted at the news," he said.