Kells Road Race motorcyclist killed in practice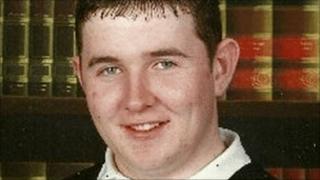 The motorcyclist who died in County Meath following a crash during a practice session for a road race was Stephen Larkin from Armagh.
The 27-year-old was killed in a crash at the Kells Road Races at about 1720 BST on Saturday.
Mr Larkin had been practising on the Crossakiel circuit. He was taken to Beaumont Hospital where he died later from his injuries.
It is the second death in two years at the race meeting.
Aileen Ferguson, secretary of the Kells Motorcycle Racing Club, said the Larkin family had asked for racing to continue.
Last July, Padraig Campbell, 32, died in a practice session.
His death was the first in the 15-year history of the Crossakiel event.