Bank of Ireland jobs to go in NI, the Republic and UK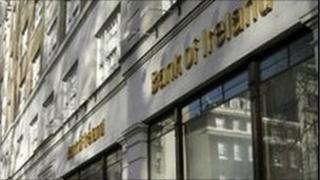 Bank of Ireland has confirmed it is cutting its workforce in Northern Ireland, the Republic and the UK, by about 750 people.
The Irish Republic's biggest lender said the cuts will be on a voluntary basis over a two-year period.
It is not yet known where the jobs will be lost.
The announcement comes after it received approval on Thursday for its restructuring plan as required under EU State aid rules.
Bank of Ireland was told to raise 2.7bn euros by financial regulators in March.
The move was the latest stage in the recovery of the Republic's banking sector following a government bail-out in the wake of the global financial crisis.
Irish lenders were hit hard by the collapse in the property market, which saw billions of euros-worth of property loans go bad.
On Thursday, the EU Commission approved the bank's restructuring plans.
These include, plans to dispose of its life and pensions division, its asset management business and the ICS building society.
Irish Bank Officials' Association IBOA general secretary Larry Broderick said staff at the bank are being asked to pay a high price for mismanagement, not only in the form of substantial job losses but also in changes to pension benefits and restrictions on pay.
He said the union will be scrutinising any specific proposals for job reductions with a view to securing alternative arrangements wherever possible, he said.
"It is incumbent on senior management to learn the lessons from past mistakes in order to bring about a fundamental change in the culture that has operated in Bank of Ireland and brought it to the brink of collapse."
Bank of Ireland has around 40 branches in Northern Ireland and about half a dozen business centres, employing around 1,300 people.
In 2007, the bank announced plans to create 149 jobs over five years through the creation of a hedge fund administration centre in Belfast.
It is not clear what progress was made on that project.
In March, Bank of Ireland reported that it made a loss of 1.8bn euros for the nine months to 31 December.
Bank of Ireland had a total of 14,636 employees at the end of December, according to its annual report.
About 2,200 people have left the lender since March 2008, mostly as a result of the lender not replacing employees as they left.
The Irish government announced plans in March to inject more money into the Rebublic's banking system in order to further stabilise it, but no new government money was planned for Bank of Ireland.
The bank is currently 16% government-owned, and was asked to raise cash privately to meet new capital requirements.
It also needs compensate for losses on its bad loans that have since been transferred to the state-run "bad bank" - the National Asset Management Agency.