18-year-old remanded over 10 Ardoyne riot charges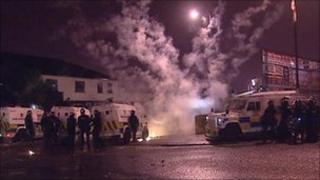 An 18-year-old man appeared in court on Friday over rioting in north Belfast's Ardoyne area on 14 July.
Patrick Quinn from Rosehead in the Ligoneil area of the city, was charged with 10 offences including assaulting police officers and riotous behaviour.
Further charges include taking a car without consent, criminal damage and possession of an offensive weapon.
No bail application was made and Mr Quinn was remanded in custody to appear via video link on August 13.
There were four consecutive nights of rioting by nationalist youths in Belfast around the Twelfth of July.
On Thursday night hundreds of people attended a protest in Ardoyne to call for an end to the rioting.
Meanwhile police arrested two men and a youth on Thursday in connection with recent disorder in south and east Belfast on 13 July and 14 July.
Patrick King, 19, of Lavinia Square Belfast, was charged with riotous behaviour on the Ormeau Road, south Belfast, on 12 July and was banned from the city as part of his release conditions.
A night-time curfew and alcohol prohibition was also imposed on Mr King who will appear again in court later this month.
Gerard McDonnell, 22, of Upper Stanfield Street, Belfast, has been charged with five offences including riotous assembly, throwing a petrol bomb, attempting to damage a motor vehicle and having a golf club and balls for that purpose.
He was refused bail on Friday for the offences connected to an incident in the Stewart Street area on 13 July.
The 15-year-old youth will appear at Belfast Youth Court later this month.
Meanwhile, two men arrested by detectives investigating a gun attack on police on 12 July has been released.
Three police officers were injured by a masked man firing a shotgun during disturbances in North Queen Street.