18-year-old faces 10 charges over Ardoyne riot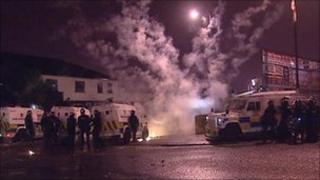 An 18-year-old man is due to appear in court on Friday over rioting in north Belfast's Ardoyne area.
The teenager has been charged with 10 offences over rioting on 14 July.
They include, having and throwing petrol bombs, assaulting police, taking and driving away, criminal damage and resisting police.
Meanwhile, on Thursday night hundreds of people attended a protest in Ardoyne to call for an end to the rioting.
The crowd was addressed by Sinn Fein's Gerry Kelly who said the rioters had hijacked local people's cars and burned them.
He said the vast majority of people in the Ardoyne were opposed to the violence.
SDLP MLA Alban Maginness also attended the rally.
Negotiation
"There's a fundamental problem out there and that is this, that the Orange Order wants to parade along that road.
"The people of Ardoyne want to resolve the problem peacefully and in a negotiated way."
He said a very very "intensive" period of negotiation was needed between residents and the Orange Order.
"There will be another march on the 14 August and there will probably be another march sometime early December, so this doesn't just happen once a year, this happens, three, four, maybe more times per year so we've got to resolve this issue quickly."
He said he supported how the PSNI had dealt with the riots.
"My own observations in Ardoyne lead me to believe that the police tactics are, in fact correct, that you contain the riotious crowd and thereafter, those who are guilty of offences, you systematically arrest those people and if there is evidence against them, then they're brought to court.
"I think that is the right way to do it."
The Childrens Commissioner Patricia Lewsley said she was "concerned" that children and young people are being used and being put at risk.
"They are not being protected by parents and responsible adults but by irresponsible people.
"I think these children need to be identified by the police and go through a process and I think there needs to be a multi-agency approach.
"While it's a responsibility for the minister for justice to deal with some of these issues, it's also the responsibility of the rest of government.
'Consequences'
"What we need to do is some joined up government in order to tackle this issue."
She said she will be writing to the first and deputy first minister to ask them about the north Belfast taskforce and to ensure that all government agencies concentrate on protecting our children and young people from harm.
The Childrens Commissioner also said she was worried that many children and young people are unaware of the "consequences" of their actions.
"This is not about just about being arrested today but the longer term, looking for employment in the future or even going outside this country and looking for visas and other things.
"I really don't think young people understand the risk they are putting themselves in, nevermind the irresponsible people who are using them in the way that they are, where they could be actually very fatally harmed."
Meanwhile police arrested two men and a youth on Thursday in connection with recent "disorder" in south and east Belfast on 13 July and 14 July.
The 15-year-old youth has been charged and will appear at Belfast Youth Court later this month.
Another man is his 20s was also arrested on Thursday in connection with disorder in the same areas on the 13th July.
He has been charged with riotous behavior and throwing a petrol bomb.
He is expected to appear at Belfast Magistrates Court on Friday.
A 35-year-old man arrested by detectives investigating a gun attack on police on 12th July has been released.
Three police officers were injured by a masked man firing a shotgun during disturbances in North Queen Street.
A 27-year-old man who was also arrested over the attack remains in custody.