From bold to beige - is new look theatre too bland?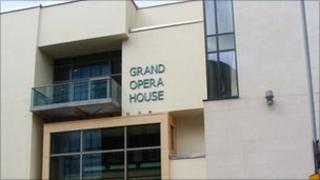 From big, bright and bold to beige - Belfast's Grand Opera House has had a makeover.
The brightly-coloured extension in red, blue and copper is now cream - to fit in with the rest of the building.
Chief executive at the Opera House, Michael Ockwell, has defended his choice of beige.
"In 2006, when the extension was launched, it was voted the seventh biggest eyesore by UTV," he said.
"I have been in post since the beginning of March. People have said to me about the extension. It has either been love it or hate it and most people have had a negative view."
The theatre in Belfast's Great Victoria Street has been surrounded in scaffolding in recent weeks for repairs.
Mr Ockwell said it was the right opportunity to blend the extension in with the rest of the building.
"I think that the Opera House is a stunning and beautiful building. I felt that the contrast between colours didn't work. The concrete wasn't painted and it felt like a mismatch," he said.
The decision to cover the copper tiles was a difficult one and the Opera House team thought long and hard about it, he added.
"I think it looks stunning now and merges in with the other buildings around it, as opposed to being a bit of an eyesore," he said.
A texter to BBC Radio Ulster's Talkback suggested that the theatre should have a special evening to celebrate the new beige building.
Music should be by "Fawn Williams" of course.