Kyiv City Ballet gears up for York performance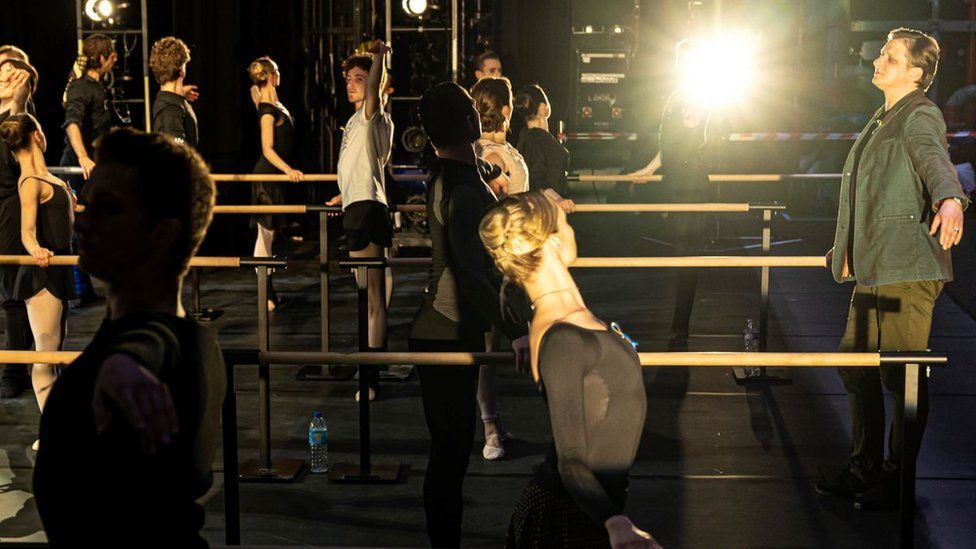 Dancers from a Ukrainian ballet company stranded outside the country fear they may never return home, the troupe's director has said.
Kyiv City Ballet was in France when Russia invaded and has been unable to go back to the country since.
They are currently in York, where they are staying for free ahead of a one-off UK show at the city's Theatre Royal.
Director Ivan Kozlov said: "To have it in your subconscious you might have no home is a hard moment".
"We couldn't believe what was going on, we turned on the television and what we saw was like a scary movie," Mr Kozlov said.
"After that we were online all the time with our parents, relatives and friends, seeing what was going on.
"It was like a bad dream."
Mr Kozlov said he waived the usual rule banning members from having phones backstage.
"Everyone had phones at the side of the stage, all you could see was phones blinking as dancers checked the news," he said.
York Theatre Royal's chief executive Tom Bird, said: "The minute we found out what had happened to them, the instinct was: 'Can we give them a home here?'.
"Hotels, businesses and travel companies worked together to feed, house and water the company for free."
Mr Bird said the sold-out performance in York, which would include excerpts from Swan Lake and The Nutcracker, would raise £25,000 for Unicef's Ukraine Appeal.
Mr Kozlov said he feels very strongly about raising money to help people in his country.
"We're helping the way we can, dancing to raise funds to help our country and civilians as much as we can.
"All the proceeds of our performances go to help civilians, refugees and children."
He said it was "an honour" to be invited to perform in York. "We received a great welcome," he said.
Mr Kozlov said that straight after the performance in York the ballet would head back to France for a performance in Biarritz.
However, he said he did not know when the company would return to the Ukraine.
"To have it in your subconscious that you might have no home, to not know what will happen to your country and all the time to hear bad news is tough.
"It's a hard moment. It's unusual."
Related Internet Links
The BBC is not responsible for the content of external sites.