Linton-on-Ouse: 'No decision' in controversial asylum centre plans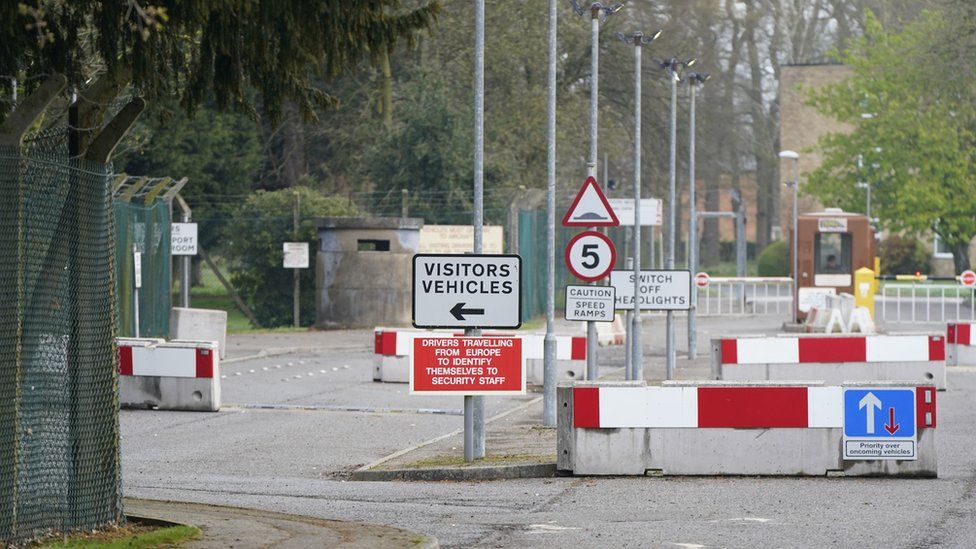 No "final decision" on controversial plans to house hundreds of asylum seekers at a former RAF base has been taken, a Home Office letter says.
About 60 men were due to move to Linton-on-Ouse, near York, this month, but the letter says the government is still considering its options.
Linton residents had campaigned against the plans, which could eventually see 1,500 men live at the site.
The Home Office maintained the site was "urgently needed" as accommodation.
The letter, seen by the BBC, was sent to Hambleton District Council outlining the government's position on the movement of asylum seekers to the site.
"I can confirm that no final decision has been taken by Ministers to accommodate asylum seekers at RAF Linton," a senior civil servant from the Home Office wrote.
"Analysis and consideration of whether or not to accommodate asylum seekers at RAF Linton is on-going," the letter added.
Olga Matthias, from the Linton-on-Ouse Action Group, said she hoped residents' concerns were being listened to.
"The positive in me, wants to see that they've been rattled by the MP, by the villages, by all the agencies saying this is a bad idea, and I'd like to think that they're thinking about it," she said.
"On the other hand, the cynic in me says they're just buying themselves time."
The plans, initially revealed in April, say the former base could house up to 1,500 single men while their asylum applications are processed.
The men would otherwise be in hotels, which the Home Office has said costs taxpayers £5m every day.
The site would be designed to be as self-sufficient as possible, with accommodation, recreation facilities, a shop and medical facilities being provided, according to the Home Office.
North Yorkshire Police said frequent patrols were already being carried out in the village with the aim being to ensure "everyone in the county feels safe and stays safe".
Speaking during an adjournment debate in the House of Commons last week, immigration minister Kevin Foster said the final decision about the Linton-on-Ouse base would only be taken when "we are clear it is safe and legal to do so".
Kevin Hollinrake, Conservative MP for Thirsk and Malton, previously said it was "absolutely disgraceful" to put a facility capable of housing 1,500 young men in a village of 600 people.