York: Huntington fire station plan puts public at risk - campaigners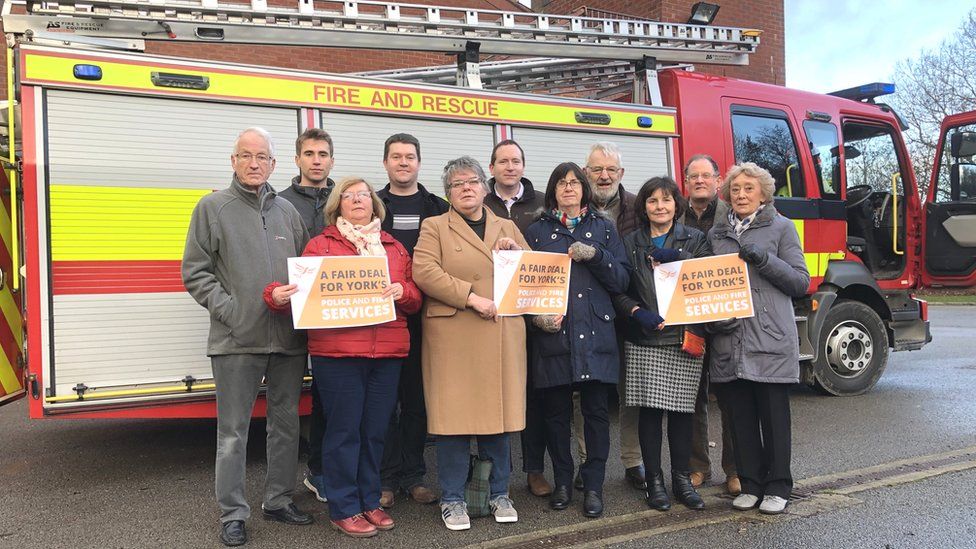 Plans to turn a fire station into an on-call service would put public safety at risk, councillors have claimed.
Huntington fire station in York was the city's least-used full-time station and did not warrant 24/7 staffing, North Yorkshire Fire and Rescue Service said.
The proposal, which has been put out to consultation, would save £1.5m a year from 2025-26, councillors heard.
However, response times from Huntington fire station could increase by about four minutes, they were told.
Lib Dem councillor Tony Fisher, who represents the nearby Strensall ward, said: "We have had two serious house fires in Strensall in the last couple of years.
"Luckily, everyone escaped safely, but I worry what would have happened if the crews had arrived four minutes later."
Huntington and New Earswick Lib Dem councillor Carol Runciman said: "We're asking everyone to sign the petition and make their voice heard in objecting to these changes, which will put public safety at risk."
Also part of the plans are changes at Harrogate and Scarborough fire stations, where it is proposed crews would operate just one fire engine at night instead of the current two.
Acomb and York fire stations would remain 24-hour operations under the proposals.
North Yorkshire Police, Fire and Crime Commissioner Zoe Metcalfe has launched a three-month consultation to gather people's views about the suggested changes.
Just 26% of incidents last year involved fire emergencies and Ms Metcalfe said the new plans would allow the service to invest in prevention while improving the availability of on-call fire engines in rural areas.
"We want to ensure we have the capacity to stop incidents happening in the first place and prevent harm before it can take place, while also having the capacity to respond to emergencies when they do take place. We are confident these proposals would do that," Ms Metcalfe said.
Michael Porter, North Yorkshire Fire and Rescue Service's chief finance officer, said it was not about "trying to balance the books".
"This is about us trying to provide more efficient and effective services as we move forward and trying to provide savings from within to reinvest into areas deemed high risk," he said.
In January, North Yorkshire fire chiefs were told they would need to borrow the majority of the £31m needed over the next five years to maintain and update its buildings and equipment.
Related Internet Links
The BBC is not responsible for the content of external sites.