Linton-on-Ouse: Far-right should stay away from asylum centre fight - MP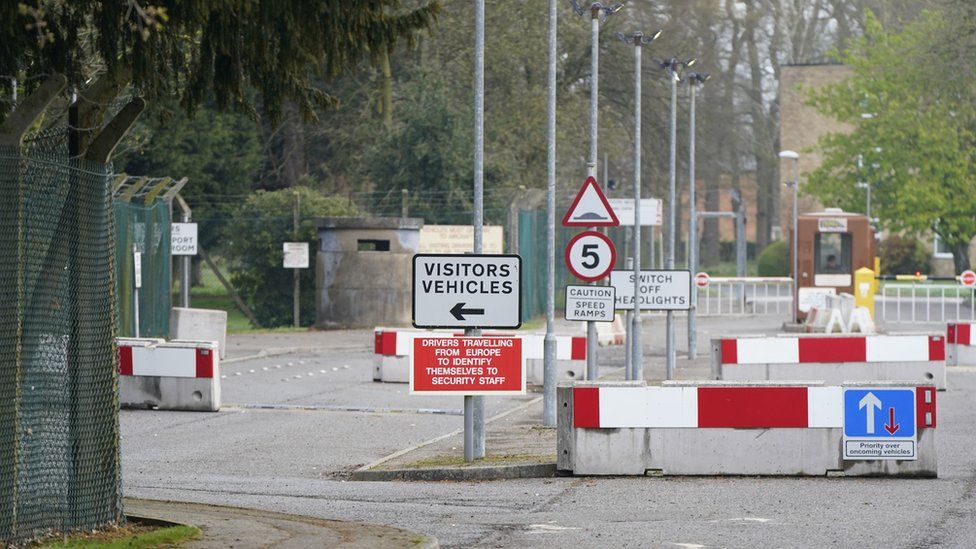 Far-right activists are "not welcome" in the campaign against plans to open a centre for asylum seekers in a North Yorkshire village, an MP has said.
The Home Office intends to house up to 1,500 men at a former RAF station at Linton-on-Ouse, near York.
Kevin Hollinrake, MP for Thirsk and Malton, said activists opposing all immigration who had attended meetings in the village "should stay away".
Residents' concerns were over the suitability of the location, he said.
The plans for the asylum centre at the former RAF Linton-on-Ouse site have been heavily criticised.
Campaigners have highlighted worries over the possible impact on the local area, lack of facilities and what they said was a lack of consultation over the proposals.
Mr Hollinrake confirmed some far-right activists had attended meetings held in the village about the intended centre for asylum seekers.
"We've seen a number of interventions by these far-right groups. They are not welcome in Linton-on-Ouse and they should stay away," he said.
"This is about the scale of the problem. I think the far-right activists don't want to see asylum seekers in the UK at all and I don't support that view."
The Conservative MP said local residents were instead concerned about housing a large number of men in a small rural community, not about immigration.
The first asylum seekers, about 60 men, had previously been expected to arrive at Linton-on-Ouse by the end of the month.
However, during an adjournment debate in the House of Commons on Tuesday, Mr Hollinrake said that appeared to have been delayed.
Immigration minister Kevin Foster said the final decision about the Linton-on-Ouse site would only be taken when services were in place and when "we are clear it is safe and legal to do so".
Earlier in the debate, Mr Hollinrake said the Home Office's actions had been an "abuse of power" and had been "indifferent, insensitive and ill-informed".
He said: "To put a facility which will ultimately have a capacity of 1,500 young men right at the heart of a village of 600 people, I think is absolutely disgraceful.
"The issue with this is not race, it is not nimbyism, it is scale."
Mr Hollinrake added that villagers had been made "sacrificial lambs" to a national policy.
However, for the government, Mr Foster said it was "essential" the current system was reformed and the costs of housing asylum seekers in hotels were reduced.
"RAF Linton-on-Ouse was identified as a viable location to develop as an accommodation centre," he said.
Only single, adult males with low healthcare needs would be placed at the former RAF station to ensure local health services would not be unduly impacted and they would all undergo a "robust" screening process, Mr Foster added.
"It is not a decision the government has taken lightly, but the need for action to reform our asylum system is abundantly clear and part of that is accommodation centres."
Related Internet Links
The BBC is not responsible for the content of external sites.