Linton-on-Ouse asylum centre could open in weeks, council says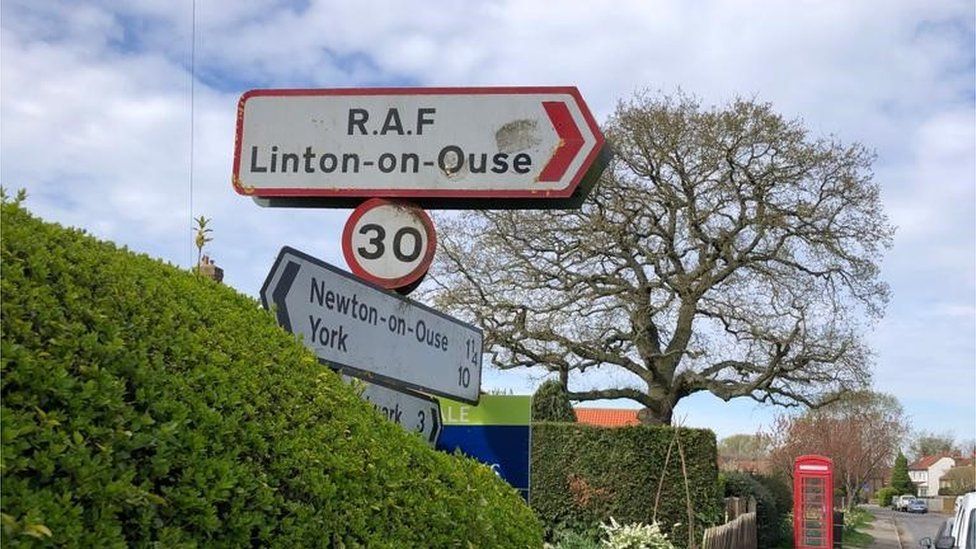 An asylum centre at a former RAF station could open within weeks, according to a council chief.
Officials told Hambleton Council the decision on the site at Linton-on-Ouse, near York, was final, according to its leader.
The authority is considering a legal challenge over its concerns about the impact upon the nearby village.
Ministers said the centre would "provide safe and self-sufficient accommodation".
Council chief executive Dr Justin Ives said he had met virtually with officials on Thursday.
"In their opinion the decision to host the centre there is final, subject to them being satisfied that it can be operated safely.
"From a practical basis they hope to have people there within the next four to six weeks, it will start off with 100 asylum seekers and the maximum they envisage at the site will be 1,500."
Dr Ives said the Home Office had declined to go into detail about the processes they had been through when choosing the site.
Olga Matthias, a campaigner from the Linton-on-Ouse Action Group, accused the government of failing to carry out due diligence or impact assessments.
"They've made this decision based on availability, but availability is not suitability."
She said asylum seekers needed to have access to services and a village of 700 people was not an appropriate location.
"It is an absolutely shameful state of affairs," she said.
Dr Ives said officials had told him they believed they had the legal authority necessary to proceed despite the council's possible legal action.
The Linton-on-Ouse proposal is part of the government's new migration policy, which also includes sending some asylum seekers to Rwanda.
A Home Office spokesperson said: "The asylum reception centre at Linton-on-Ouse, North Yorkshire, will help end our reliance on expensive hotels which are costing the taxpayer £4.7million a day, and we are engaging with local stakeholders about the use of the site."
Related Internet Links
The BBC is not responsible for the content of external sites.