Last Armistice Day wreath laid by York ex-railway workers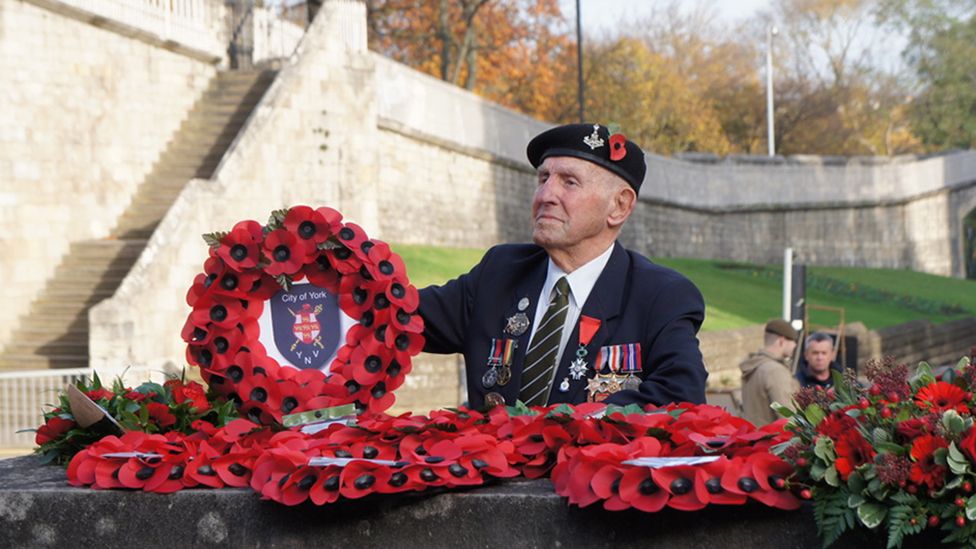 A remembrance wreath has been laid for the last time by a group of railway workers who served in the armed forces.
Members of the British Railways Ex-Servicemen's Association took part in the Armistice Day ceremony at the railway memorial in York.
There are now only 10 people in its ranks and so the decision has been made to close the association.
Chairman Shaun Houldridge said the end of the group's almost 100-year history "pulls at your heart strings".
The association was set up in the aftermath of World War One in which 2,236 men working for the North Eastern Railway lost their lives.
More than 550 railway workers were subsequently killed in World War Two and more names have been added over the years to the memorial outside York's railway station.
The Grade ll*-listed memorial was designed by Sir Edwin Lutyens, who also designed the Cenotaph in London. It was unveiled in 1924 at a ceremony attended by thousands of people.
Mr Houldridge said the association would now hopefully hand over the annual ceremony to the chaplains of the Railway Mission, a faith-based charity which offers pastoral support to railway workers.
"It's a sad time. The loss of the association, it pulls at your heart strings," he said.
"There are so many members and people I've known in the association that are sadly no longer with us.
"It's a shame we're having to close, but time marches on and none of us lives forever, apart from those whose names are actually etched in stone. They will live forever more."
Related Internet Links
The BBC is not responsible for the content of external sites.