York Minster: Queen's statue planned for jubilee year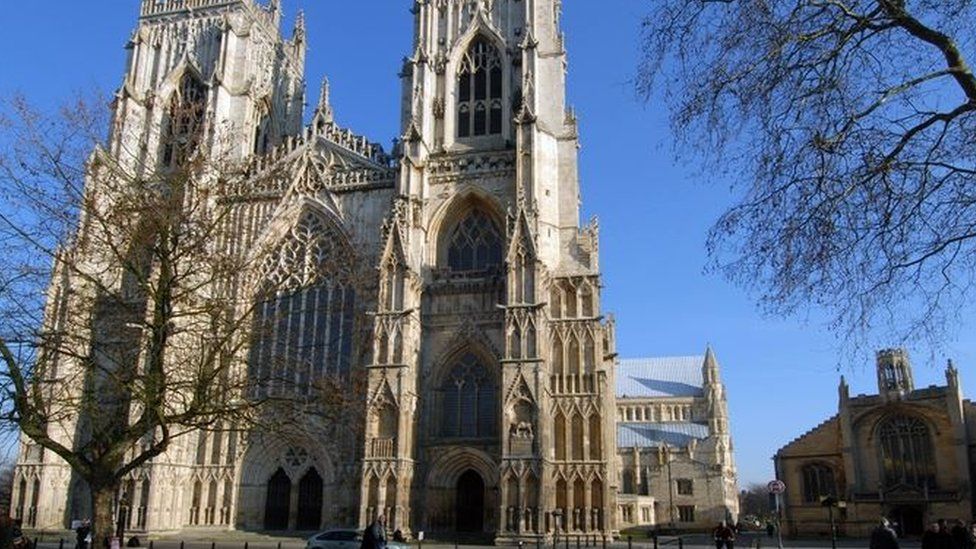 A statue of the Queen which is planned to be unveiled at York Minster next year has been described as a "symbol of hope" in the aftermath of the pandemic.
If given the go-ahead, the statue would go into an empty niche at the front of the minster to mark the Queen's Platinum Jubilee, documents show.
The statue's design is currently a closely guarded secret and will be revealed at a public event next year.
It will be a "focal point" to honour the Queen, planning documents add.
The Rt Revd Dr Jonathan Frost, Dean of York Minster, said: "Details of the statue design are confidential and need to be given only essential and limited circulation so that the city of York can plan a public 'reveal' in 2022 in conjunction with the Queen's Platinum Jubilee celebrations."
A letter from Sir Edward Young, private secretary to the Queen, to the Dean, says a design of the statue was shown to the Queen who approved it in principle.
The niche where the new statue is set to be installed at the minster's west front may never have had a statue placed within it before, according to the planning application going before City of York Council.
The proposed statue would be created in the minster's own stone yard and would be part of the "public campaign to signal the recovery of the city from the ravages of the Covid-19 pandemic as a symbol of hope", the application states.
The minster's neighbourhood plan also includes proposals for a new public square in front of the historic cathedral, to be called the Queen Elizabeth Square, according to the Local Democracy Reporting Service.
The square "will be the pre-eminent, largest and most significant public civic space in the City of York", planning documents suggest.
A spokesperson for York Minster said a further announcement about the proposals could be made later this year.
Related Internet Links
The BBC is not responsible for the content of external sites.