Selby rail crash: Disaster remembered 20 years on
By Tom Airey
BBC News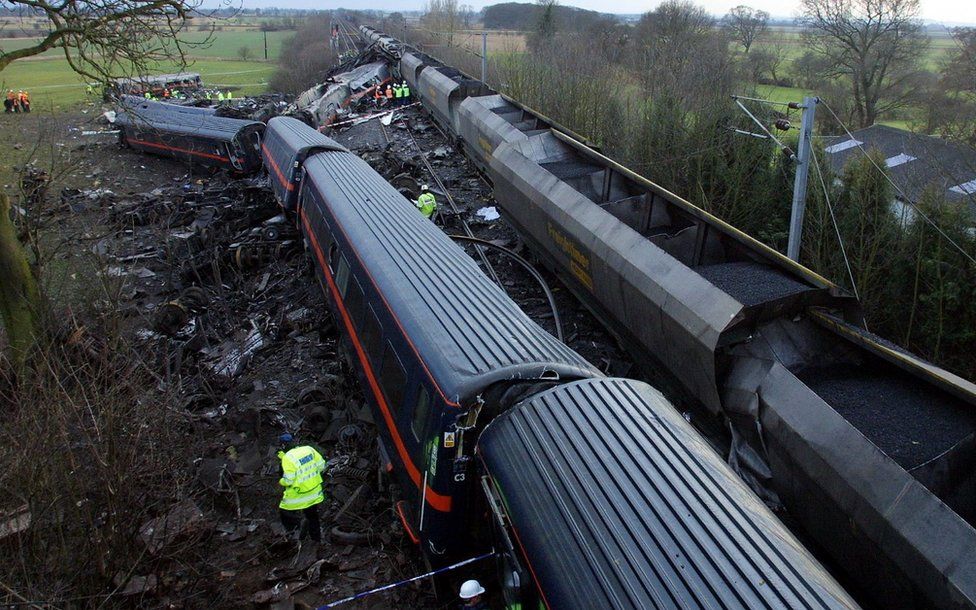 The Selby rail crash remains the worst UK rail disaster of the 21st Century. Ten men died and more than 80 people were seriously injured when two trains collided, the first thrown into the other's path by a Land Rover which had plummeted on to the East Coast Main Line after its driver fell asleep. Ahead of a memorial service 20 years on, survivors, bereaved relatives and others directly affected by events in the North Yorkshire village of Great Heck have shared their memories of the crash.
"You know, there was a train crash this morning that involved dad's train.
"I've got to tell you that your daddy's dead, and you won't see him again."
Five hours before Mary Dunn found herself having to break the worst possible news to her sons, she had been awoken by the sound of sirens.
It was the morning of 28 February 2001. She switched on her television and saw the wreckage of a freight train lying on its side near the M62 outside Selby.
At the same scene, a GNER InterCity 225 had derailed, parts of its front carriages crushed. The service had departed Newcastle on time at 04:45 GMT. Ninety-nine people were on board, many of whom had got on about 12 minutes earlier at York.
It was just after 06:00 when Gary Hart fell asleep at the wheel of his Land Rover, causing the vehicle and its loaded trailer to career 377ft (115m) down an embankment onto the southbound side of the tracks. Shaken awake by the crash, he climbed out and dialled 999. Mid-way through his call to police, the InterCity, which had been travelling at speeds of up to 125mph (201km/h), hit his Land Rover.
In a recording of the call, the screeching of brakes can be heard as Hart tells the operator the train has "gone straight through my Land Rover".
The InterCity continued down the tracks as an 1,800-tonne Freightliner approached in the opposite direction. Mrs Dunn's husband, Steve, was the driver.
Passenger Bob Brook was in his seat with a coffee and a newspaper, on his way to take the Eurostar to France. He describes experiencing a "sudden, very sharp braking".
"Now, being a railwayman, I thought he'd either missed a speed restriction sign or there was something else wrong. I don't remember anything else after that," he says.
The braking was too late to prevent the devastating impact that came next. The combined speed of both trains - 88mph (142km/h) for the InterCity 225 and 54mph (87km/h) for the freight train, according to Health and Safety Executive estimates - remains a record for an accident of its kind in the UK.
It completely derailed the passenger train, strewing wreckage and leaving one carriage 427ft (130m) away from the rail bridge in a field. The Freightliner locomotive, which was travelling from Immingham to Ferrybridge, and two of its wagons ended up in a garden, destroying a garage and a caravan.
Mr Brook recalls waking "in a total daze" to a quietness inside his carriage, its roof now down to seat level, with the torches of approaching rescuers lighting the gloom.
"I realised I was lying in the floor of the coach with someone lying on my legs," he says. "I was knocked senseless enough to not really understand what was going on around me."
Shortly before the crash, conductor Raymond Robson had checked Mr Brook's ticket and was moving through the train after hearing driver John Weddle sound the horn - alerting staff that he required assistance.
Mr Robson's sister, Judith Cairncross, says: "He'd passed through a carriage door and was flung to the doorway at the other side of the carriage, he was even flung out of his shoes. I take comfort in the fact that his injuries were so severe that he would have died in an instant without suffering any pain."
A passenger in the buffet car, travelling to London on business, had just been served by a chef at the counter and was waiting for his coffee and toast when a dark cloud started to fill a nearby window.
The passenger from York, who doesn't wish to be named, says: "It was the dust being thrown up by the derailed metal wheels running over the gravel, then I was flung down the kitchen corridor area and cracked my neck on a panel, at least it stopped my trajectory.
"The roof of the carriage struck a road bridge and it tore the roof off, so all the lighting and metal work rained down on top of us and we were just staring up at the sky."
He later learned the chef who had been serving him at the point of impact, 42-year-old Paul Taylor, had died in the accident.
A short distance away, in Brayton, Mrs Dunn had attempted to call her husband on his mobile phone but received no response.
"I was trying to get my son ready for school, sort myself out and answer the phone in between, because by that time it was already on the national news that something had happened," she says. "I had people ringing me from all over the place, asking where Steve was, if he was all right, and of course at that point I didn't know anything myself at all."
At 11:00, about five hours after the crash, Mrs Dunn was told by a railway official that it was "99.9% certain" that her husband was dead. She told her children the news.
"I took [my sons] upstairs into the first bedroom that we came to," she says.
"I just sat down with them, I said: 'I'm really sorry, there is no other way to tell you this...'"
Raymond Robson, 43, GNER senior conductor
Paul Taylor, 42, GNER buffet chef
John Weddle, 47, GNER train driver
Steve Dunn, 39, freight train driver
Steve Baldwin, 39, passenger
Chris Terry, 30, passenger
Alan Ensor, 44, passenger
Barry Needham, 40, passenger
Clive Vigden, 39, passenger
Robert Shakespeare, 43, passenger
Three helicopters and a fleet of ambulances ferried the injured to seven different hospitals across Yorkshire, with snow, sleet and freezing weather creating difficult conditions for the rescue efforts.
Phil Graham was Network Rail's incident commander for the crash, co-ordinating efforts from the signalling centre in York.
"BBC News 24 must have been quite new in those days and we had it on in the office. We could see quite graphically what had happened within two or three hours," he says.
He was then working "12 hours a day for the next fortnight", as the operation moved from rescue to police forensic examination work.
"Massive cranes were brought in, roadways had to be laid in the middle of farmers' fields, and this was in the middle of the foot and mouth epidemic to make matters more difficult," he says.
The then-deputy Prime Minister John Prescott visited the crash site as recovery efforts continued, with a road bridge providing a grim vantage point for onlookers and media.
Ben Cryer, a BBC Radio York newsreader despatched to the scene, remembers being "overloaded with images and sounds" when he arrived.
Recalling the view as he looked down from the road bridge, he says: "On the left, carriages carrying coal had burst through garden fences and a caravan, spilling the contents like a huge black blanket. It had been a lucky escape for those people living there."
Mrs Dunn, who visited Great Heck the day after the crash, remembers "walking out through the farmyard towards the field where the main wreckage was". "It looked like a giant had walked through a train set and just kicked it and trodden on it," she says.
It was a sensitive time for the rail industry, which was still recovering from fatal crashes in Hatfield in 2000 and Paddington in 1999.
Coincidentally, the GNER locomotive at Selby was the same one involved at the Hatfield derailment, but investigations found no defects with the rail infrastructure, rolling stock or personnel competencies that could have contributed to the outcome at Great Heck.
Mr Graham said: "It was calculated at the time that this was a one in 357-year event, anywhere on the network. Lessons have been learned on the highways side, John Prescott ordered a study of roads that go over railways and the recommendations of the report were enacted."
Hart, from Lincolnshire, suffered only whiplash. He served 30 months of a five-year jail term after being convicted of 10 counts of causing death by dangerous driving.
"My understanding is that the number of estimated sleep-related accidents, particularly on motorways at night or in the early hours. has not altered in those 20 years," Mrs Dunn says.
"People just seem to think that they're superhuman and it won't happen to them - that was certainly the attitude of that particular individual that day."
A virtual memorial event will be broadcast from Great Heck and Newcastle on Sunday morning, with an online service live-streamed from Selby Abbey in the afternoon.
Reflecting on her grief over the years, Mrs Dunn says: "Imagine that you're putting a big duvet into an airing cupboard and you just throw it in, and you can't shut the door on it.
"What time allows you to do is to fold it up so it's manageable. You can put it in a cupboard and shut the door, but it's still the same size duvet behind the door."
Additional reporting by BBC Radio York's Elly Fiorentini and BBC Look North's Phil Bodmer