North Yorkshire Police drops 'victim blaming' abuse campaign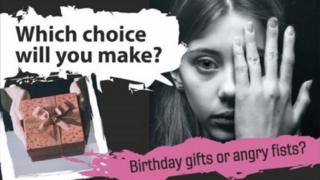 A police force has withdrawn a child abuse campaign from social media after accusations of "victim blaming".
North Yorkshire Police posted images containing messages such as: "Which choice will you make? Birthday gifts or angry fists?"
A number of Facebook users criticised the campaign, with one posting a comment saying: "Children do not choose to be abused."
The force said it was "not the message we set out to give in our campaign".
Another post on the police Facebook page said: "Children don't choose angry fists, angry fists choose them. Target the abusers, don't blame those being abused."
The NSPCC said it was essential to "raise awareness of the problem".
The charity added: "Child sexual exploitation is never the fault of the victim. Very often, young people are manipulated or coerced into sexual activity by groomers who gain their trust."
Rotherham Labour MP Sarah Champion thanked the police for removing the campaign.
North Yorkshire Police said it had "received some positive responses to the campaign" but had withdrawn it to carry out "some more testing with our target audience".
"This deliberately hard-hitting campaign was to get across the message that exploitation is not a life that anyone has to live, and that the police are there to support people who are at risk, and who need help.
"No victim of child sexual exploitation is to blame, and that is not the message we set out to give in our campaign."