Harry Leslie Smith: The 'world's oldest rebel'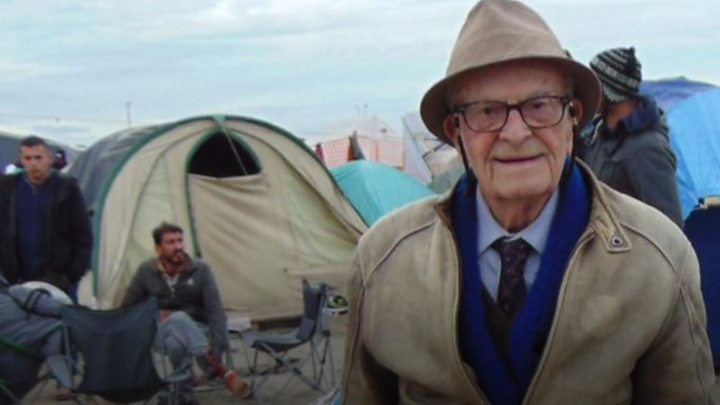 He called himself the "world's oldest rebel", and at 95 years old World War Two veteran and political activist Harry Leslie Smith was still raging against the machine.
Even shortly before his death - confirmed by his son on Wednesday - the activist was challenging the status quo.
BBC News takes a look at his life and achievements.
The son of a miner, Mr Smith, from Barnsley, joined the RAF in 1941 and lived through the Great Depression.
He became a passionate advocate for refugees, having seen the crisis at the end of World War Two.
In a video shared by the UNHCR, the UN Refugee Agency - where he introduced himself as the "world's oldest rebel" - he recalled seeing "a stream of hundreds of thousands of refugees coming south".
Holding back tears, he said: "I can still see them. Absolutely pitiful, hungry, starving.
"When it was possible we would stop and give them whatever excess food supplies we had on our trucks and reassure them that now they were safe.
"I think for the first time I saw a gleam of hope in their faces."
Mr Smith, who in his later years divided his time between Yorkshire and Canada, where his son lives, would still regularly meet refugees from around the world and advocate on their behalf.
On Twitter in October 2017, he said he was spending the last years of his life touring hotspots of the world "to find a solution to the crisis".
Harry's Last Stand Refugee Tour, which he described as the "last great challenge of my existence before old age consumes me", raised more than £55,000 via a GoFundMe page.
He shared their stories in books and wrote several other titles including Harry's Last Stand, Love Among the Ruins, 1923: A Memoir and The Empress of Australia.
Mr Smith had served in the RAF as a wireless operator and in the final months of the conflict worked in mainland Europe, maintaining abandoned Nazi airfields for allied aircraft.
While staying in Hamburg, he fell in love with local woman Friede, which he told the National Post in Canada was his "destiny".
The couple married in 1947 and later moved to Canada together.
Friede died in 1999 from cancer.
Earlier this year Mr Smith told the Canadian edition of Reader's Digest he was inspired to take up writing after seeing the world's economies crashing and the death in 2009 of his middle son at the age of 50.
"I needed to let people know that the economic and political storms coming our way, I'd seen them before," he said.
When he was not campaigning against poverty, you might have heard Mr Smith talking about the NHS.
He rose to prominence after giving an impassioned speech about his life and the NHS at the Labour Party conference in 2014.
Mr Smith lost his sister to tuberculosis when she was just 10 years old because his family could not afford a doctor.
The speech, which moved some delegates to tears, earned him a standing ovation and huge praise on social media after warning that the UK must "be vigilant" about the NHS.
Mr Smith also hit the headlines when he wrote in the Guardian in 2013 about how he would wear the Remembrance poppy for the last time because he believed the symbol had become politicised.
He said he could "no longer allow my obligation as a veteran to remember those who died in the great wars to be co-opted by current or former politicians to justify our folly in Iraq, our morally dubious war on terror and our elimination of one's right to privacy".
He had recently had his own podcast, where he spoke out against austerity, neo-liberalism and "the death of the welfare state at the hands of the entitled".
He also had more than 250,000 followers on his Twitter account, where in recent days his son had been posting updates about his father's health.
After announcing his death on Twitter on Wednesday, his son John posted he was determined to follow in his father's footsteps and find a publisher for two other books about his early days.