Adrian Rodi jailed for life for strangling ex-wife Angela Rider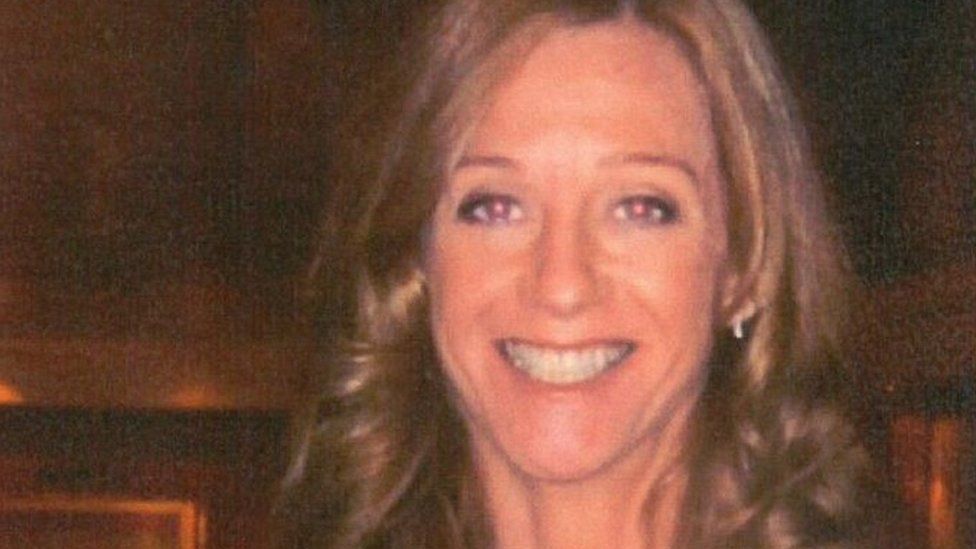 A "controlling" builder who strangled his ex-wife to death after an argument over dinner has been jailed for life with a minimum of nine years.
Adrian Rodi, 50, was sentenced for killing Angela Rider at her home in Cawood near Selby on 4 March.
Property developer Ms Rider, 51, was found by police at her house in the North Yorkshire village.
Leeds Crown Court heard mentally ill Rodi will serve his sentence in a secure hospital.
He had a long history of "controlling behaviour" and had attacked Ms Rider on three occasions before her death, the court was told.
The couple first separated after he choked Ms Rider, then his girlfriend, until she lost consciousness during a holiday in Greece.
They got back together and later married in secret, but he attacked her again while they were on honeymoon in Thailand when he thought she was "acting provocatively towards men".
In 2014, he was given a hospital order after choking her during an argument.
He was discharged from a mental health unit three months later and advised to keep taking his prescribed psychotropic medication, but gave it up in December 2015.
Then, on 4 March, Rodi strangled Ms Rider following an argument before calling North Yorkshire Police and fleeing.
He was tracked down to the Lake District several hours later and arrested.
Rodi, who has depression and multiple-sclerosis, was initially charged with murder but later changed his plea to manslaughter on the grounds of diminished responsibility.
Kama Melly, prosecuting, told how Ms Rider's mother, Wendy Brown, and daughter, Sara Rider, had described Rodi as being "increasingly controlling" but the deceased had feared "not for her safety but for preventing his suicide".
Judge Tom Bayliss QC said Rodi will serve a minimum of nine years before he can be considered for parole.
He said Rodi was "aware of the risk when [he] refused to engage with mental health services" with resulting "catastrophic consequences" for himself and Ms Rider.
In victim impacts statements Mrs Brown said of her daughter: "I just miss her and wish I could die of a broken heart."
Sara Rider said although Rodi controlled every aspect of her mother's life, "he could never control her love for me or my love for her".
Related Internet Links
The BBC is not responsible for the content of external sites.