B&M York fire: Blaze was started by 'smoking materials'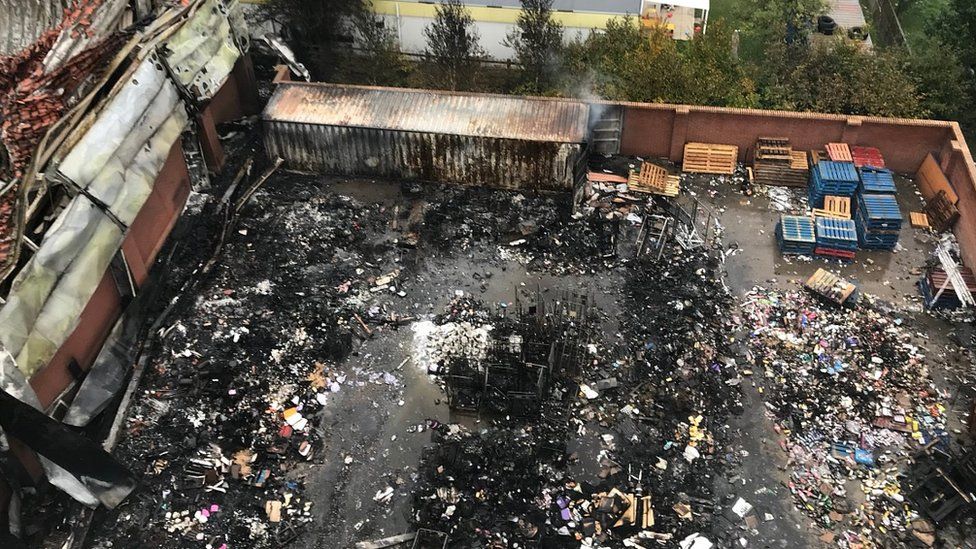 A fire which destroyed a York branch of the discount retailer B&M was started by a discarded cigarette or lighter, an investigation found.
The blaze broke out in a storage yard, a no-smoking area, behind the store at Clifton Moor while the retail park was busy with shoppers on 13 October.
North Yorkshire Fire and Rescue Service said the fire was "fanned by high winds" and rapidly spread to the store.
Despite the branch being open at the time, no injuries were reported.
The joint investigation by the fire service, police and insurers concluded the blaze was "not thought to be of a suspicious nature", with fire crews preventing it spreading to neighbouring businesses.
A former area manager for B&M previously told the BBC he had emailed senior staff to warn them about a build-up of combustible material in the yard causing a fire risk weeks before it broke out.
The company did not wish to comment on the claim.
It has emerged City of York Council received a report of products stacked on pallets in the yard having the potential to attract vermin in late August.
The council said its environmental health team investigated and the issue was resolved after discussions with the manager.
At no point were concerns of a fire risk raised, the spokesperson added.
The fire service said: "Following a comprehensive joint investigation, the cause of this fire is not thought to be of a suspicious nature.
"It appears to have started by means of discarded smoking materials within the rear loading area of the store."
They are said to have asked if the restaurant could provide drinks on account of crews not carrying cash while attending a call-out.
Two members of the public stepped in and paid for the drinks when none were provided.
Related Internet Links
The BBC is not responsible for the content of external sites.