Ripon walk commemorates war poet Wilfred Owen's death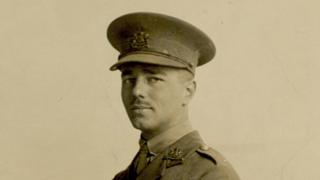 A walk has been held to mark the 100th anniversary of the death of World War One poet Wilfred Owen.
Owen died aged 25 on 4 November 1918 leading an attack near the Sambre-Oise canal in northern France.
He had lived in the North Yorkshire town of Ripon for a number of months while recovering from shell shock.
The walk, lead by the Rev Caitlin Carmichael-Davies curate of Ripon Cathedral, visited locations connected with Owen.
Sites visited include a cottage in Borrage Lane where Owen lived and wrote a number of poems.
The Rev Carmichael-Davies laid a wreath on the cottage's gate and Owen's poem Arms and the Boy was read out.
The walk was followed by a special service where a bust of Owen was presented to the cathedral.
Owen enlisted in the army in 1915 and won the Military Cross for bravery three years later.
He saw action in a number of battles and met the poet Siegfried Sassoon while recovering from shell shock in a military hospital in Edinburgh.
Sassoon encouraged his writing and edited his only book of poems which was published in 1920.
The collection includes his war poems Dulce et Decorum Est and Anthem for Doomed Youth.