York council plan to cut staff sickness 'punitive'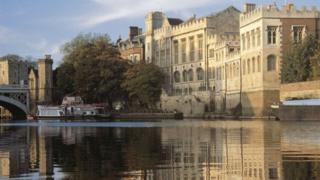 Council plans to pay an external company £180,000 to cut staff sickness rates "lack compassion and empathy", councillors have said.
City of York Council lost 23,000 working days to absences last year.
Union Unison and the Green Party criticised the plans, saying the high sick rate was because staff were burnt out.
The council said it wanted to ensure employees' health was supported in line with managing absence effectively.
The Green Party has called for the decision to be reviewed, according to the Local Democracy Reporting Service.
Green councillor Denise Craghill said: "This proposal, which includes the use of a remote company, using people not even based within the council to effectively hound staff back to work from the 'first few days' of their sick leave', seems punitive and unlikely to improve staff morale or service delivery."
Andrea Dudding, from Unison, said there was a "continuing culture within the authority of attempting to squeeze a quart out of a pint pot with the resultant consequences too much work and not enough time, with the inevitable sickness absence that results from staff being burnt out."
Mindfulness and gardening
The council, which employs about 2,300 staff, said the average number of sick days had risen by nearly 13% between the 2016-17 and 2017-18, costing the authority about £1m.
It said it had introduced mindfulness classes and activities including table tennis and gardening in order to help "maintain attendance at work", but Ms Craghill said they were "not going to make a significant impact unless we also address the root problems of an authority that is becoming increasingly dysfunctional."
The council said stress and musculoskeletal issues were the two main reasons for long-term sickness and the highest absence rates were in waste services and housing and adult social care.
It said the external company would be tasked with reducing staff absence by a third by April 2021.
Council leader Ian Gillies said: "Where it's been done in-house it's been slow and we still have 23,000 days lost to sickness so something has to be done."