PCC Julia Mulligan bullying complaint upheld after inquiry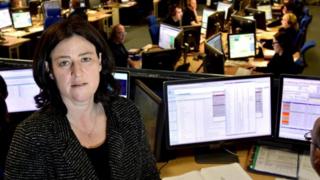 The police and crime commissioner for North Yorkshire displayed "bullying behaviour" towards members of staff, a panel has ruled.
Julia Mulligan was accused of giving a worker "constant criticism" with "sometimes humiliating" comments, affecting their health and wellbeing.
A Police and Crime Panel found the individual and three others had been subjected to bullying by the PCC.
Mrs Mulligan said she was "shocked" at both the panel's approach and findings.
The panel, chaired by Hambleton District Council deputy leader Peter Wilkinson, heard allegations she had demonstrated consistent disrespect for one of the complainants.
The Conservative PCC was accused of making negative comments, interrupting them and avoiding eye contact during meetings.
The sub-committee concluded there was sufficient evidence from four statements to suggest "the perception of constant criticism formed a key feature of the working environment" for some staff.
It said Mrs Mulligan responded to the complaints by challenging the competency of the main complainant and two of the other individuals providing supporting statements.
'Anxiety and depression'
The report's conclusion read: "While the PCC may not have deliberately set out to bully the complainant, the behaviours as perceived both by [the complainant] and the supporting individuals exemplify characteristics of bullying behaviour."
The sub-committee recommended Mrs Mulligan should regularly survey her staff about bullying and take a management development programme.
It also advised the PCC to be supported by a mentor in her "challenging and difficult role", and asked her to respond in writing within 21 days.
Following the report's publication, two of the complainants said providing evidence "required us to reopen old wounds and in some cases revisit the sleepless nights, anxiety and depression".
In response to the report findings, Mrs Mulligan, who has been the region's PCC since 2012, said: "To draw the conclusions they have, given all the above, is regrettable and disappointing and were there a mechanism to appeal, I would certainly do so."