York B&M fire: McDonald's sorry for free drink refusal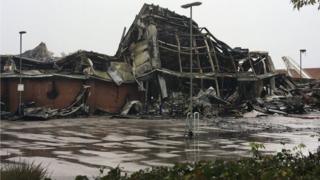 McDonald's has apologised after firefighters tackling a blaze at a branch of discount retailer B&M were denied free refreshments.
Crews spent Saturday night bringing a huge fire, which left the building at York's Clifton Moor retail park "a burnt-out shell", under control.
It later emerged two members of the public had paid for drinks out of their own pockets when none were provided.
McDonald's has said free drinks "should have been provided on the night".
A number of firefighters reportedly approached the branch, close to the B&M store, while taking a break from combating the blaze.
They are said to have asked if the restaurant could provide free drinks, on account of crews not carrying cash while attending a call-out, but were refused.
'Small recognition'
Several firefighters used Facebook to thank "a lady and a young man" who bought them refreshments.
Latest news and stories from Yorkshire
Steve Brown, a crew manager at North Yorkshire Fire Service, wrote: "I was one of the firefighters there last night, thank you to the lady and young man who brought us the teas and coffees, really appreciated."
Phil Lee also expressed thanks, writing that the teas and coffees "couldn't have come at a better time. Many thanks from all the lads".
A McDonald's spokesperson said: "On this occasion, we would like to apologise to the firefighters who bravely tackled last night's fire.
"They should have been provided with free refreshments on the night as a small recognition for their efforts.
"McDonald's will of course be happy to reimburse the member of public involved."
The company would be in touch with the local fire and rescue service, it added. North Yorkshire Fire Service has been contacted for a comment.
Crews remain at the scene of Saturday's blaze, and an investigation into its cause is due to begin, said North Yorkshire Fire Service.
A spokesman said the flames had been brought under control but firefighters continued damping down the remnants.
He confirmed the fire had been contained within the store and there had been "no immediate concern for adjacent buildings".
At the height of the blaze, which broke out just before 16:30 BST when the store was still open, local residents were advised to stay indoors and close their windows.
BBC reporter Phil Bodmer, who was at the scene, described seeing "dozens of fire crews" and hearing "large bangs... coming from inside" the building.
Plumes of smoke could be seen "for miles", he added, and the "whole building" appeared to be alight.
Returning to the scene on Sunday, he said the store was a "burnt-out shell" which remained smouldering despite heavy rain.
You may also be interested in: