Yorkshire Water fined £733k over Mick Jennings fire death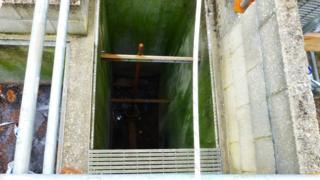 Yorkshire Water has been fined £733,000 after a worker suffered fatal burns at a water treatment plant.
Mick Jennings' clothes caught fire while removing valve bolts at the Tadcaster sewage works in July 2015.
The Health and Safety Executive (HSE) found the valve was half open and sparks reacted with high oxygen levels.
The 55-year-old suffered 90% burns. The only part of his body not burned was where his boots and belt had been, his partner told Leeds Crown Court.
Yorkshire Water pleaded guilty to breaching Section 2(1) of the Health and Safety at Work Act 1974.
The HSE investigation found a near miss report had been recorded at the same location in September 2014 but no action had been taken to reduce the risks.
Inspector John Micklethwaite described it as "a tragic and wholly avoidable incident".
"Those in control of work activities have a duty to identify hazards that could arise, to eliminate or to mitigate them, and to devise suitable safe systems of work."
Mr Jennings, who had been with the firm eight years, died in hospital two days later.
In a victim impact statement, his partner Sharon Bancroft said her life had been destroyed.
"If people had done their job properly, Mick would still be here," she said.
Yorkshire Water's chief executive Richard Flint said: "The tragic events of 20th July 2015 have had a profound effect on all of us at Yorkshire Water, both personally and professionally.
"Whilst we cannot change what happened to Mick, we must ensure this terrible accident leaves a permanent legacy on the business and that we do everything possible to prevent something like this happening again."