Anne Lister: Plaque to 'first modern lesbian' sparks anger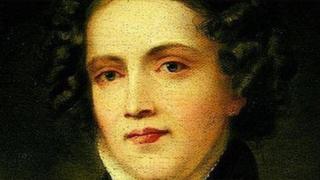 A row has erupted over the wording of a plaque honouring a woman described as the "first modern lesbian".
The word "lesbian" is not on the recently-unveiled plaque in York, which is dedicated to 19th Century diarist Anne Lister.
Instead it refers to her as "gender-noncomforming", which critics say has "nothing to do with sexuality".
More than 2,000 people have signed an online petition about the blue plaque, which has a rainbow edging.
Yorkshire breaking news: Inquiry after fatal shooting; TV's Bagpuss and Clangers go on show
York Civic Trust, which put the plaque up, said it was sorry to those who feel let down by the wording.
The plaque was unveiled on 24 July at Holy Trinity Church, where Lister received the church's blessing to privately contract a marriage to Ann Walker on 30 March 1834.
Julie Furlong, who started the petition, wrote: "Anne Lister was, most definitely, gender non-conforming all her life. She was also however, a lesbian.
"Don't let them erase this iconic woman from our history.
"A gender non-conforming woman can be many things because it only means that you do not conform to societal expectations. It has nothing to do with sexuality."
You may also be interested in:
Lister's diaries tell the story of her life and lesbian relationships at Shibden Hall, where she lived between 1791 and 1840.
The journals, of more than four million words, were recognised as a "pivotal" document in British history by the United Nations in 2011.
Sue Lister, of York's LGBT forum, said they were involved in the plaque's commissioning but did not sign off its wording.
"She was one of the early lesbians, it was the same era when it was not ok to be gay, you covered up your sexual preferences because they were considered sinful and criminal," she added
"You should get [the wording] right, you need no longer cover up the fact that she was a lesbian, so say it loud and proud."
York Civic Society said the phrase gender-nonconforming "was not intended to be read as a replacement for the word 'lesbian', however, we understand and accept that it has been read in this way".
"While we've received many positive responses to the plaque, we are really sorry that there are also many people who feel let down by its wording," it added.
"We recognise that this has hurt people, and we apologise."
It said it was open to "updating the plaque in the near future".
A new BBC TV drama called Gentleman Jack, based on Lister's diaries, is in production and is due to be screened on BBC One in 2019.