Iron Age village found near roundabout on York ring road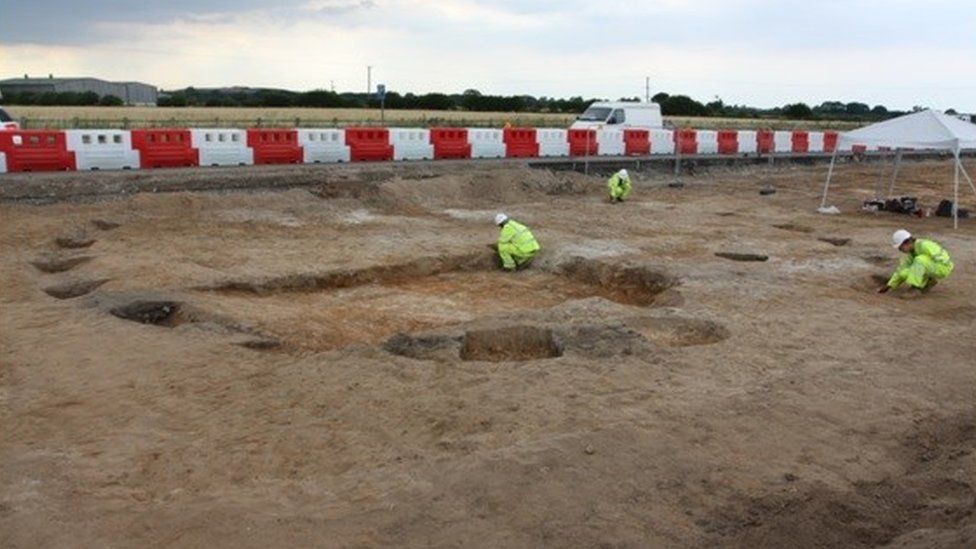 A prehistoric settlement believed to date back 2,500 years has been unearthed on the ring road in York.
City of York Council and York Archaeological Trust made the find during works at Wetherby Road roundabout.
A large ring ditch, described as "one of the biggest to be unearthed in York", was found, along with fragments of pottery.
Other finds included fragments of volcanic rock, not found locally.
Officials said the earliest discovery - a ring ditch measuring 16 metres across - appeared to date from the Iron Age.
It contained evidence of a hearth and is thought to have been either an enclosure or roundhouse.
Ian Milsted, Head of Archaeology for York Archaeological Trust, said 'We're excited to have recovered this important information and will now analyse the finds to understand the story of the people who lived here before the Romans founded the city.
Finds have also been made to the north of the enclosure with a series of other ditches that may indicate field boundaries associated with the settlement.
Mr Milstead added the discovery was further evidence for late prehistoric settlements around York.
You might also be interested in:
Related Internet Links
The BBC is not responsible for the content of external sites.