Scarborough Council rejects asylum seeker housing proposal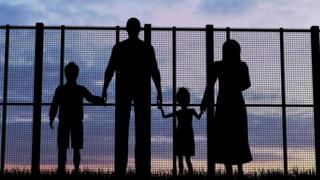 A proposal to house up to 20 asylum seekers in a North Yorkshire town has been rejected by councillors because of financial concerns.
Scarborough Borough Council voted against a Home Office request to become an "asylum seeker dispersal area".
Dispersal areas are used to house people while their asylum applications are processed.
Cabinet member for housing Bill Chatt said: "We don't have the money, the staff or the housing stock to do this."
More stories from across Yorkshire
Mr Chatt, told councillors more than 2,000 people were on the housing waiting list in Scarborough and raised concerns about the cost of supporting asylum seekers whose applications were refused, according to the Local Democracy Reporter Service.
"My concern is with those who don't achieve asylum who will end up on the streets with nothing," the independent councillor said.
"It's alright being a humanitarian but I'm a realist. Our housing stock is not up to it.
"If that makes me a bad man, then I'm a very bad man."
'Roll out welcome mat'
The decision of the Conservative-run authority to reject the proposal without financial commitments from the Government was criticised by opposition councillors.
Labour group deputy leader Tony Randerson said: "I was in Beruit in the 60s and saw the horrors people there were trying to get away from.
"Yorkshire folk are meant to be humanitarian aren't we? We should be rolling out the welcome mat for these people."
According to council papers the Home Office may still impose the scheme but has indicated it is "prepared to negotiate a specific agreement with North Yorkshire councils to help mitigate any concerns or potential issues".
Scarborough has previously housed five Syrian families fleeing conflict in their home country in 2017.
A Home Office statement said the UK had a "proud history" of granting asylum to those who needed protection.
It said: "The Home Office maintains an active partnership with local authorities across the UK to plan for the most appropriate dispersal of asylum seekers."