Whitby lifeboat station protesters back sacked RNLI volunteers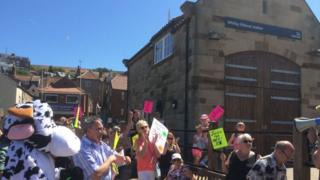 About 100 protesters have taken part in a march on a lifeboat station over the sacking of two volunteer crew members.
Joe Winspear and Ben Laws were sacked last month over production of pornographic material, the RNLI previously said.
Protesters went to the Whitby lifeboat station demonstrating for the reinstatement of the crew members.
In response the RNLI said the decision to stand them down was taken "following a fair and robust investigation."
It added: "We understand some people feel strongly about this but we cannot make decisions based on public opinion and we have been very clear about what we will tolerate with regards to behaviour and practices at RNLI lifeboat stations.
"The actions of the two crew members who were stood down were unacceptable - this was certainly not trivial or 'a bit of fun'.
"Like any emergency service, the RNLI sets high standards and expects all its volunteers and staff to set an example, not just in terms of their maritime expertise but also in their behaviour and respect for others."
It previously said one Whitby volunteer produced graphic sexual images "which went far beyond banter" of a crew member without their knowledge.
"The other produced a hardcore pornographic image of a fellow crew member on a mug," the charity said.
The RNLI crew based at Whitby said last week: "We are united working together and wish to move forward."
"Lifeboat crews at Whitby have been saving lives since 1802 and continue to do so today."
Posting a response on social media, Mr Winspear previously said the mugs were "a light-hearted joke between the crew" and no-one had taken offence.
He said he was heartbroken by the decision "as all we have ever wanted to do was to save lives at sea".