Thief Lee John McDonald banned from shops in Selby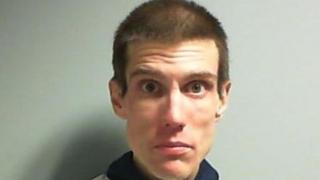 A prolific shoplifter who has just been released from prison has been banned from most of the retail outlets in a North Yorkshire town.
Lee John McDonald, 35, of no fixed abode, but with links to Goole, was given a three-year Criminal Behaviour Order valid from his release today.
McDonald's picture has been distributed by police to publicise the order and deter his behaviour in Selby.
Police said he had a "brazen attitude" and caused "alarm and misery".
Posters including McDonald's photograph have been distributed to retailers in the town and are now on display.
'Verbal abuse'
McDonald was jailed for 46 weeks at York Magistrates' Court on 23 December 2017.
PC Amanda Butler, of the Selby Community Safety Hub, said: "John Lee McDonald is known to the retailers in Selby for his prolific offending behaviour.
"He has a brazen attitude of entering retail premises and taking whatever he wants without making any payment.
"If he is confronted by the shop staff, they are subjected to verbal abuse which is also intimidating due to his size, demeanour and reputation."
PC Butler added: "McDonald has no meaningful connections to Selby and therefore has no valid reason to come to the town or the district.
"The Criminal Behaviour Order will help to put an end to the alarm and misery he has caused in Selby."
North Yorkshire Police said if anyone saw McDonald in any of the shops, they should contact officers.
He is banned from Co-Op, Aldi, Wilkinsons, Sainsbury's, Tesco, Morrisons, Savers, Home Bargains, Boots, Superdrug, WH Smith, Yorkshire Trading, Wetherells, Argos, Homebase, B&M and Farmfoods.