Family of geese bring A1 to standstill near Catterick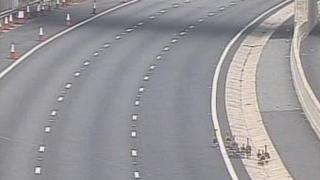 A family of geese brought the A1 to a standstill after walking on to the northbound carriageway for a gander.
Traffic Officers held vehicles near Catterick for about 30 minutes while the geese were herded off the road.
It happened shortly after 09.00 BST on Saturday.
Highways England tweeted that the road was reopened at about 09.35, saying: "Good news! The family of approx. 20 geese have been herded off the motorway to greener pastures".
You may also like: