Boy's visual bucket list includes swimming with sharks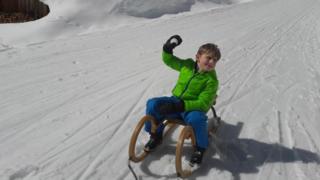 An eight-year-old boy who dreams of swimming with sharks has created a visual bucket list of things he wants to see before he loses his sight.
Fred Howe has a rare eye disease called retinal folds meaning his impaired sight could soon deteriorate further.
He has already ticked off a few, including a sail on the Thames and meeting his favourite CBeebies stars.
Fred, from Haxby, York, is said to be "obsessed" with sharks and wants to get up close to them.
He also aims to travel to Disneyland Paris on the Eurostar to "give Mickey a high five" and meet a Bavarian mountain owl "almost as big as me".
Other experiences on Fred's list include:
Swim in a really warm sea with a coral reef
Sleep in a massive knights tent with a bed at Warwick Castle
Ride a bicycle made for two so my mum can do all the pedalling
Build a secret garden den
Be a zoo keeper for the day
His mother Karen Newell called Fred, who is nicknamed 'Fantastic Mr Fred' by his family, an "amazing, fearless boy" who "just gets on with life".
"One eye he doesn't really see much out of at all, just light and dark, the other eye he can probably see a couple of metres ahead of him," she said.
"It's stable at the moment and we're hoping for as many years of sight as we can but it's not a nice thing to have a progressive disease so we're trying to do as much as we can, while we can."
On the list, Fred writes that his mother would prefer him to swim with dolphins instead of sharks "as they're kinder and don't bite your bum".
You may also like:
His mother said the family want to "build up his visual memory so if his sight does deteriorate sooner rather than later then he can recall those experiences and build on them".
"In a zoo the animals are usually far away and you just can't see them, so feeding experiences have been wonderful," she added.
"We're not saying it's all doom and gloom if Fred's sight goes, it's just a case of trying to build up the list so he understands more about the world."