Pig muck store 'not conducive' to North York Moors 'Mouseman' tourism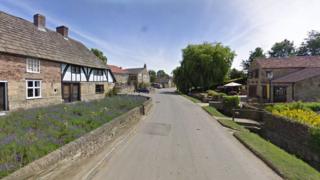 A furniture centre and tourist attraction in the North York Moors has been told it must accept a pig muck store just yards from its premises.
Plans to build the store for waste from 2,000 pigs at a farm in Kilburn, North Yorkshire, has been approved by the local authority.
Robert Thompson Craftsmen and the Mouseman Visitor Centre had objected, citing environmental concerns.
But the authority said the store would reduce problems of odour and flies.
A meeting of the North York Moors National Park Authority's planning committee was told the smell issue was "just not conducive to village life or the tourism industry", the Local Democracy Reporting Service has reported.
The centre also feared the store would house pigs.
'Inundated with flies'
Resident Pippa Cartwright, who is also a surveyor representing the furniture maker, said the village was "a major tourist destination" with the centre attracting "more than 20,000 visitors a year".
Another resident stated in a letter: "We are inundated with flies, and the smell from the sheds is intolerable. A covered manure store is not going to reduce the stench that currently pervades the village on a daily basis."
But Church Farm, which submitted the proposals, said it produced "significant quantities of manure" and the covered muck store would cut smell and fly issues.
A spokesman said: "Manure stored outside captures rainfall and this has the potential to create effluent run-off which is pollution risk to nearby watercourses and as such endorsements for the building of the store have been received from the Environment Agency, Natural England the local catchment sensitive farming officer."
Officers said planning conditions including fly and manure management plans would be imposed and the use of the store to house pigs would be forbidden.