Turner Prize winner's Dalby Forest sculpture plan deferred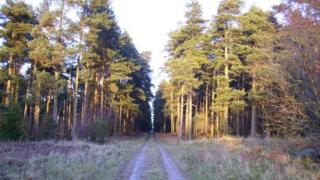 Plans for a forest sculpture by a Turner Prize-winning artist have been deferred after its proposed location was rejected.
Rachel Whiteread has been commissioned to create a concrete cast of a Nissen hut, sited in the middle of Dalby Forest in North Yorkshire.
A planning application for it was deferred at North York Moors National Park Authority meeting on Thursday.
Residents had objected to the proposal for the site near Low Dalby village.
The plans are part of the Forestry Commission's centenary events marking the end of World War One.
The sculpture was to be situated near to Dalby's former forestry work camp site.
Deferral was decided in order to "negotiate a possible alternative location", said the authority.
It is the statutory planning body for the national park.
Andrew Morgan, an objector, said the proposed location of the sculpture "would simply add to an already congested part of the forest, leading to a detrimental impact on the well-being of local residents".
Other objectors, Peter and Cheryl Booth, said the commission was "trying to turn Dalby into a commercial theme park".
But Joanna Speryn-Jones, who backs the plan, said: "It would be an absolute shame for Yorkshire not to have such a significant artwork for children and adults to encounter in a natural and informal setting."
The huts - steel structures built for troops - were used to house men sent to build the forest in the 1930s.
The Forestry Commission said the purpose of the sculpture was to "interpret and celebrate the history of the site".