Teacher given £646,000 payout over Halloween calls for head to quit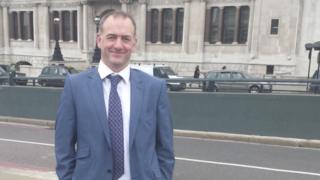 A former teacher awarded £646,000 after he was sacked for showing the film Halloween in class has said the school's headteacher should resign.
Philip Grosset, who suffers from cystic fibrosis, was fired from the Joseph Rowntree School in York in 2014 on the grounds of gross misconduct.
But an employment tribunal ruled he was a victim of disability discrimination.
City of York Council said: "We hold safeguarding pupils and the highest professional standards as a priority."
Mr Grosset said headteacher Richard Crane should be suspended, pending an investigation, if he did not resign.
Council education director Jon Stonehouse said the school's governing body "considered all the information" before dismissing him.
He said the ex-teacher showed "an 18-certificate film with extreme violence and horror to a class of 15 year olds including some vulnerable young people".
Mr Grosset, who now works in IT, accepted the horror film was inappropriate, but said: "I would never have done that if I was physically and mentally in a better place."
He argued the failure of the school to make adjustments for his illness had left him feeling unwell.
"I was desperately trying to keep a medical regime going and begging the school to help me", he said.
The former English teacher said Tuesday's ruling helped to "define the rights of disabled people in the workplace".
Mr Grosset said he was not a "standard-bearer" for disability rights but "sometimes it's important to take a stand"
He said his payment would "replace what is lost" and added: "I've lost my career, am on less money and have no pension.
"Its a crude measure of the damage that's been done. I've got a good few years in work yet but I might have to rely on that money for a long time."
Mr Stonehouse said a doctor's letter "not previously shown to the school" was submitted to the employment tribunal, which led to the judgement.