Turner Prize winner's Dalby Forest sculpture plan 'like bus shelter'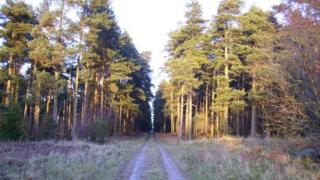 Plans for a sculpture in a forest by a Turner Prize-winning artist have angered residents, with one comparing it to a "bus shelter in an inner city".
Rachel Whiteread has been commissioned to create a concrete cast of a Nissen hut, sited in the middle of Dalby Forest in North Yorkshire.
It is part of the Forestry Commission's centenary events marking the end of World War One (WW1).
Dozens of residents said the village was already congested with visitors.
Read more stories from across Yorkshire
The planning application is earmarked for approval by the North York Moors National Park Authority - the statutory planning authority for the national park - at a meeting on Thursday.
The sculpture would be located in Dalby's former Forestry work camp site, which is made up of a large number of Nissen huts, and would be unveiled in the autumn if approved, the Local Democracy Reporting Service said
The huts - steel structures built for troops in WW1 - were used to house men sent to build the forest in the 1930s.
The Forestry Commission said the purpose of the sculpture was to "interpret and celebrate the history of the site".
But residents fear the artwork would exacerbate the number of tourists already coming to the forest to view other attractions such as the children's trail and park run.
Nicky Wearmouth, who lives nearby in Low Dalby, said the hut already attracted litter and "poo-bag dumping".
"A structure like this - a bit like a bus shelter in an inner city - will attract litter, graffiti, urination and the like," she said.
"I don't think that a concrete structure which regularly plays host to dog-poo bags, picnic leftovers and graffiti with an added air of eau de urine is the best way to 'interpret and celebrate' Dalby's history."
Residents Peter and Cheryl Booth said the Forestry Commission was "trying to turn Dalby into a commercial theme park".
Ryedale council said the quality of the artwork made it "of national, even international, note".