RNLI defends sacking and suspensions of volunteers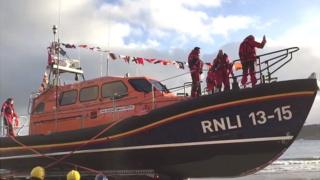 The lifeboat charity the RNLI's issued a statement defending its decision to sack or suspend some of its volunteers on the North Yorkshire Coast.
The statement is after a newspaper headline was critical of the RNLI.
Scarborough's long-serving Coxswain Tom Clark was "permanently stood down" and two Whitby volunteers were suspended.
The RNLI said it would not tolerate lifeboats "being taken for joyrides" and in the Whitby case it referred to "pornography in a lifeboat station".
Two volunteers in Whitby have been suspended while the charity investigates "the production of inappropriate material of a sexual nature".
Three members of Scarborough's RNLI lifeboat crew have resigned over the dismissal of a coxswain in a row over a training exercise.
Tom Clark, who has been with the lifeboat service for 34 years, has been "permanently stood down" after he held a training exercise without permission.
Darren Lewis, RNLI lifesaving manager for the area, confirmed the resignations but said the station had more than 25 crew, plus shore crew, and was able to launch both its boats.
In a statement following the national newspaper's headline the RNLI said: "We simply will not tolerate lifeboats being taken for joyrides in rough weather without full crew.
"We don't accept that hard core, graphic pornography has any place at a lifeboat station."
"To provide some context, the recent issues involve less than 1% of our 6,000 operational volunteers.
"We are proud of our brave, decent men and women dedicated to saving lives and committed to acting with integrity."