Columbine-style school shooting plot accused 'would play God'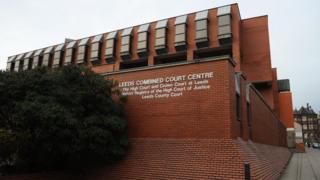 A student accused of planning a Columbine-style mass school shooting said the human condition was "a curse" and he would "play God", a court heard.
Two 15-year-old boys deny conspiracy to murder at Leeds Crown Court over the alleged plot at a Northallerton school in North Yorkshire last year.
The boy accused of thinking up the plot had a diary claiming to "love and hate" Hitler's ideology, jurors were told.
The younger defendant said he felt "scared" as the plot developed.
A diary which was seized during a police search at the older teenager's home in October 2017, described the human race as a "vile species which needs to die out", jurors heard.
One passage read: "Everyone is filthy and deserve to be shot, including me.
"I'll play the role of God and decide who a [sic] let live and die."
"The human condition is a curse and burden," it added.
Leeds Crown Court heard extracts from a police interview in which the boy claimed the diary "was not intended for anyone else to see".
Jurors also heard a passage where he claimed to "love and hate" the ideology of Adolf Hitler and supported the "weaning out of the weak".
During his own police interview, the younger defendant, who was also aged 14 at the time, said he believed his co-defendant was "joking" when he discussed the alleged plan, and felt "scared and isolated" as it started to get more serious.
The court heard one boy appeared to "idolise" Eric Harris and Dylan Klebold, the teenagers who took their own lives after killing 12 students and a teacher at Columbine High School in Colorado in 1999.
The boys, now 15, both jointly deny conspiracy to murder in relation to the alleged plan.
They have each also pleaded not guilty to intentionally encouraging or assisting an offence and a charge of encouraging or assisting an offence believing it would be committed.
The older boy denies aggravated burglary, as well as unlawful wounding.
The trial continues.