Boycott over Scarborough mayor-making 'junket'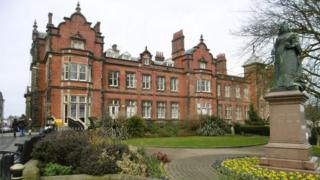 All of Scarborough's 13 Labour councillors will boycott a mayor-making event in protest at taxpayers' money being spent on a "junket".
Dozens of council members, officers and dignitaries will receive a free meal at the event to mark the inauguration of the new mayor on 17 May.
Tony Randerson, Scarborough's deputy Labour group leader, said money should be used on "eroded frontline services".
The council said the civic hospitality budget had already been reduced.
Read more stories from across Yorkshire
Conservative councillor Joe Plant will replace councillor Martin Smith as town mayor at the event.
Mr Randerson said: "In these times of extreme difficulties and austerity for all our residents, it's difficult to be able to justify going to a junket at the public expense."
Scarborough council said the civic hospitality budget had been reduced from £9,320 in 2014/15 to £3,050 in 2016/17.
A spokesperson said: "The budget is used for a buffet lunch at the annual council meeting for mayor making to mark the ceremonial start of each new mayoral year.
"The same modest budget also has to cover all other civic hospitality throughout the year at significant local events and civic occasions."