Northallerton school gun plot to target 'infected gene pool'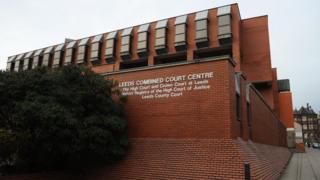 A teenager accused of planning a Columbine-style mass shooting at a school said he would be performing a "service to society", a trial heard.
Two 15-year-old boys deny conspiracy to murder over the alleged plot at a school in Northallerton, North Yorkshire last year.
A teacher told Leeds Crown Court the younger of the boys told him potential targets were "infecting the gene pool".
He said it was "the most dreadful thing a student had ever said" to him.
Jurors heard how the same boy had messaged a fellow pupil via Snapchat shortly after the start of the school year in September 2017 to tell her that he and his co-accused planned to "shoot up" their school.
After being shown the messages by the girl, a female teacher passed them on to a male colleague, and the boys were spoken to separately by school staff.
The court heard how the older of the two defendants, both of whom were 14 at the time, made "denials about the allegation" that the plan was real.
The teacher said: "He [the younger defendant] started off by saying that he had sent the messages because some students were making his life in school intolerable.
"He felt that they needed dealing with severely. He said they needed killing.
"He said he needed to eliminate these people, who were infecting the gene pool."
The male teacher went on to say that the same boy appeared to "idolise" Eric Harris and Dylan Klebold, the teenagers who took their own lives after killing 12 students and a teacher at Columbine High School in Colorado in 1999.
The boys, now 15, both jointly deny conspiracy to murder in relation to the alleged plan.
They have each also pleaded not guilty to intentionally encouraging or assisting an offence and a charge of encouraging or assisting an offence believing it would be committed.
The older boy denies aggravated burglary, as well as unlawful wounding.
The trial continues.