Northallerton shooting plot trial: Accused 'seen with knife'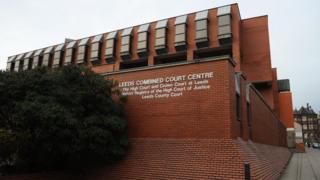 A teenager accused of planning a Columbine-style mass shooting was seen carrying a large knife in public, a court has heard.
The boy fled his ex-girlfriend's home with a blade so long it was "nearly touching his ankles", her mother said.
Giving evidence at Leeds Crown Court, she described the boy as "devious and primitive".
The teenager, now aged 15, is one of two boys who deny hatching a plot to recreate the US school massacre.
Both are accused of conspiring to murder pupils at a school in Northallerton, North Yorkshire, in June last year.
'Mass killing TV shows'
Speaking from behind a curtain, the mother said she saw the older defendant in her daughter's bedroom in the early hours of 21 October last year.
After leaving to get her dressing gown, she said she came back to the room to see the boy fleeing the home with a silver knife which was "longer than 12in (30cm)".
"The blade was nearly touching his ankles when he was running up the road," she said.
The woman said she and her husband "started to have concerns about [the boy's] character" when he came to stay at their house.
She told jurors recordings of programmes about "mass killings and shootings" were found on the family's Sky box, after her daughter had supposedly become influenced by her then-boyfriend's viewing habits.
Describing the defendant, she added: "He's devious and primitive and had quite a lot of power and control over what, at the time, was our vulnerable daughter."
The boys, now aged 15, jointly deny conspiracy to murder, as well as charges of encouraging or assisting an offence.
The older teenager has also pleaded not guilty to aggravated burglary and unlawful wounding.
Both were allegedly inspired by Eric Harris and Dylan Klebold, who killed 12 students, a teacher and themselves at Columbine High School, Colorado, 1999.
The case continues.