Hundreds at funeral for Leeds boy Rocco Wright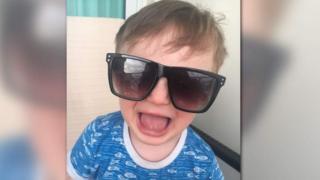 Hundreds of mourners have attended the funeral of a three-year-old boy who died in a swimming pool at a leisure centre in Leeds.
Rocco Wright's inquest was told he was found floating in the deep end of the pool at the David Lloyd Club in Moortown on 21 April, Leeds Live reported.
His funeral was held at the Immaculate Heart of Mary Catholic Church.
Rocco's family said his organs had been donated to help other children.
Earlier Father Tim Wiley told the mourners: "In the run of things, it's so unfair.
"Sometimes life can deal you some really hard cards in life and this is one of them.
"After today everybody will go away, and life has got to carry on. But it doesn't carry on as it was before. Life for the family is changed."
Rocco's mother Catherine said he son had given the family "the most amazing three years" and added: "He was happy, independent and funny."
Rocco's inquest heard how his father Steven had taken him and his four-year sister to the club for their swimming lesson.
After they arrived they had been told there were not enough instructors to accommodate all the children.
When he saw his son in the water Mr Wright dived in to pull him out before two doctors and an A&E consultant, who happened to be at the pool, administered CPR.
The family said Rocco's heart has been flown to Great Ormond Street Hospital in London.
Rocco's bright blue coffin was decorated with some of his favourite cartoon characters.