Northallerton Columbine plot trial: Teen 'had kill list'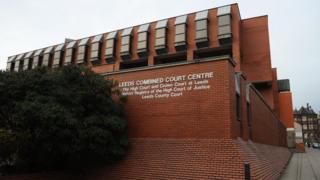 A teenager who planned to commit a Columbine-style school massacre carved his name into an ex-girlfriend's back, a court has heard.
The boy, who is accused of plotting to re-enact the US mass shooting in Northallerton, had a "kill list" under his bed, jurors were told.
A friend of his ex described him as "insane" and feared reprisals if she reported him, Leeds Crown Court heard.
The boy, and a younger co-defendant, both deny planning the massacre.
In a police interview played to jurors, a schoolgirl said her friend announced she was dating the older boy, who she referred to as the "school shooter".
Get live updates on this story and others across Yorkshire
Her friend had claimed the boy was plotting to use "his dad's rifle" to carry out a shooting at his school, the girl said.
'Insane'
"She quickly said that she was joking, but she talked about all the stuff he said he had under his bed, like chlorine bombs and lists of people he wanted to kill," the friend told police.
When asked why she did not report the matter, the girl said: "From what I could gather, he was insane and I did not want anyone I know or myself getting hurt by him by reporting him."
The girl also said her friend showed her marks apparently left behind after the boy had carved his name into her lower back.
Describing this, she said: "I was trying not to cry.
'Outcast'
"I did not ever think that she would get her crazy boyfriend's name carved into her back."
During her evidence, the girl said the younger defendant was an "outcast" but seemed "nice".
The two boys, now aged 15 years old, had allegedly been planning to emulate Eric Harris and Dylan Klebold, the teenagers who killed 12 students, a teacher and themselves at Columbine High School in Colorado.
The pair jointly deny conspiracy to murder in relation to the alleged plan to kill pupils and teachers at their school.
They have each also pleaded not guilty to intentionally encouraging or assisting an offence and a charge of encouraging or assisting an offence believing it would be committed.
The older boy denies aggravated burglary, as well as unlawfully wounding his former girlfriend.
The trial continues.