North Yorkshire council plans special needs school transport charge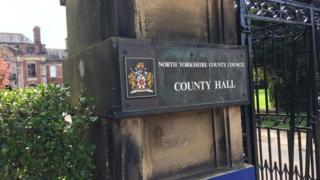 Young people with special educational needs or disabilities could have to pay £490 a year for home-to-school transport.
North Yorkshire County Council's executive approved plans for the charge for pupils aged 16-18 as part of a move to save about £2m a year.
The council said the charge is only a fraction of the actual cost, which is estimated at £8,000 a year per pupil.
Campaigners have said the flat fee is unfair.
Read more about this and other stories from across Yorkshire
Claire Jackson, from the Independent Parental Special Education Advice charity, said pupils should be individually assessed.
"One of the problems is that it is not unlawful for local authorities to ask for a cost contribution," she added.
"However they must assess young people on their individual needs and they must be prepared to depart from that charge on the basis of individual need."
'Tough options'
The Conservative-run council said an increasing number of special needs pupils and increases in the distances being travelled meant rising costs and a budget overspend.
It said it believes the costs would continue to rise to an estimated £30m a year by 2025. The current annual budget for special education needs school transport is just £5m.
Other changes being introduced include assessing young people in education over 19 using the adult social care assessment process and introducing an enhanced mileage option for statutory-aged children whose parents would prefer to transport their children themselves.
Janet Sanderson, the council's executive member for children's services, said: "These are very tough options and we do not consider them lightly.
"We have consulted widely and have listened to what families and young people with special needs and disability have said on these issues."
The plans would be introduced in September if they are approved by the full council in May.